Palestine
Days of Allah
Days of Victory
Middle East
Hamas leader: Operation al-Quds Sword dealt heavy blow to US 'deal of century'
The head of Hamas political bureau says Operation al-Quds Sword, launched by Gaza-based resistance factions in retaliation for Israel's acts of aggression, brought failure to former US president Donald Trump's so-called "deal of the century" on the Israeli-Palestinian conflict.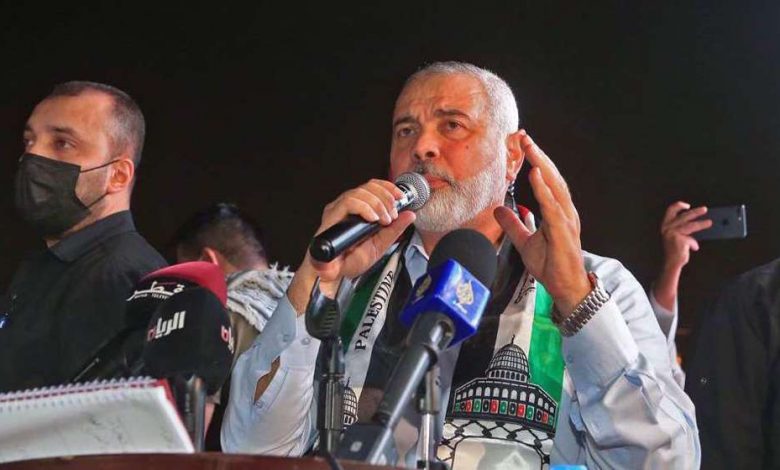 Speaking to Doha-based Al Jazeera news channel on Wednesday night, Ismail Haniyeh said Palestinian resistance groups, led by Hamas, conducted the operation in support of the protesters at Al-Aqsa Mosque compound and the Palestinians living in Jerusalem al-Quds.
The campaign involved for the first time the firing of rockets at different parts of the occupied territories, he added.
Tel Aviv launched the bombing campaign against Gaza on May 10, after Palestinian retaliation against violent raids on worshipers at the al-Aqsa Mosque and the regime's plans to force a number of Palestinian families out of their homes at Sheikh Jarrah neighborhood of East Jerusalem al-Quds.
Apparently caught off guard by unprecedented rocket barrages from Gaza as part of Operation al-Quds Sword, Israel announced a unilateral ceasefire on May 21, which Palestinian resistance movements accepted with Egyptian mediation.
According to Gaza's Health Ministry, 253 Palestinians were killed in the Israeli offensive, including 66 children and 39 women, and 1948 others were wounded.
Haniyeh said the Palestinian resistance had decided to target the entire occupied lands, but suspended its plan following the Egyptian mediation.
"Hamas told the mediators that the side which had launched the aggression must itself take responsibility for the ceasefire," he said.
"Operation al-Quds Sword left behind normalization schemes and the Oslo Accords, dealt a heavy blow to the so-called deal of the century, and brought the issue of Palestine back to the forefront to the extent that the Security Council, the United Nations, the European Union and the Arab League convened meetings."
Standing next to Israeli Prime Minister Benjamin Netanyahu at the White House, Trump unveiled the controversial "deal of the century" on January 28, 2020.
The proposal gave Israel most of what it has sought over decades of conflict while paying lip service to the possibility of a Palestinian state with limited sovereignty.
Palestinian President Mahmoud Abbas denounced the plan as a "conspiracy deal" unworthy of serious consideration.
Elsewhere in his remarks, the Hamas leader said the Palestinian resistance had "the upper hand" in the Gaza truce as it forced the Israeli army to retreat from its decision to destroy three towers in the besieged enclave and refused to allow al-Quds to be on the negotiating table.
"The resistance in this battle also thwarted the trick of the occupying army to carry out ground operations in the north and east of Gaza," he added.