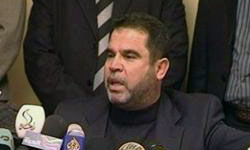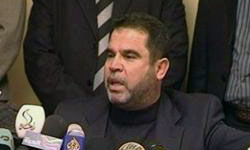 Hamas Spokesman in the Palestinian Legislative Council Salah al-Bardawil hailed Iran's support and solidarity with the Palestinian people, reminding the "valuable" role played by Imam Khomeini in this regard.
"We send our greetings to the Iranian people who have expressed solidarity and sympathy with the Palestinian nation over the tight siege imposed on the Gaza Strip," Bardawil told FNA.
Describing the International Qods Day as a bell chiming for those who forgot the Palestinian issue, he stressed that it is a good measure to make up for the lack of attention and negligence of certain Islamic states over the Palestinian issue.
Bardawil called on all Muslims to attend the International Qods Day rallies as a linking bridge for the Islamic Ummah to attain its great goal which is freedom of Beit-al-Moqaddas and other Islamic sanctuaries from the hands of the Zionists, prevent normalization of relations and compromise with Israel and renunciation of Qods.
The International Qods Day, the last Friday of the holy month of Ramadan during which worldwide Muslims stage demonstrations to voice their strong protest and outrage at the occupying regime of Israel, was started by the late Founder of the Islamic Republic, Imam Khomeini, as a way of expressing solidarity with the Palestinians and underscoring importance of Qods to Muslims.