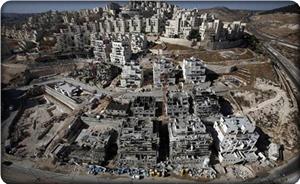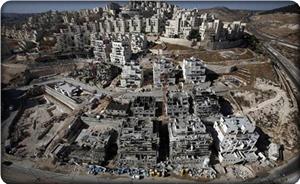 A report issued by the Information Office of Hamas movement affirmed that the pace of settlement expansion in the West Bank and Jerusalem has been escalating.
The report pointed out that the latest of these projects was approving the construction of 3600 settlement units which will serve as the bridge linking the "Maale Adumim" settlement, "E-1" settlement complex, the Jordan Valley's settlements and other settlement blocs, with the occupied city of Jerusalem; within the framework of what Israel calls Greater Jerusalem.
The report also monitored the Judaization schemes targeting Jerusalem and Al-Aqsa Mosque during the period between the 16th of November and the 15th of December.
It pointed to digging tunnels in the town of Silwan to Judaize the area surrounding Al-Aqsa Mosque, demolishing dozens of Jerusalemite houses, planning to build an archaeological park and a synagogue in the Old City of Jerusalem, and changing the names of several Jerusalem streets.
It also monitored the settlement schemes in the occupied West Bank through pointing to the confiscation of lands, demolition of water wells, the uprooting of olive trees and bulldozing of agricultural lands.
The report pointed out that the settlers still continue to attack Palestinian citizens, their properties and holy places, but also pointed to the state of fear experienced by the settlers after the aggression on Gaza and the victory of the Palestinian resistance.
Hamas movement has demanded, in a statement by an official source, the international community to bear their responsibility for the serious repercussions of the settlement and judaization projects and schemes.
It also called for an Arab and international serious move to put an end to such flagrant violations of the International charters and laws.
The movement reaffirmed that "all the occupation's efforts to impose a new reality will not succeed in obliterating the facts and history", stressing that the Palestinian people will never give up any part of the Palestinian land and will always adhere to its constants and defend its sanctities.