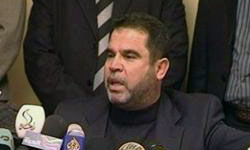 Hamas has welcomed a proposal by the European Union (EU) to monitor Gaza crossings in a bid to help lift the Israeli-imposed siege on the Palestinian territory.
Hamas "welcomes this proposal in all its aspects," of EU or international presence at Rafah, local news agency quoted the Palestinian movement's senior official Salah al-Bardawil as saying on Sunday.
Bardawil, however, strongly rejected the idea of Israel policing in the south, stressing that "Israel should not obstruct any convoys or ships coming to the Gaza port."
Spanish Foreign Minster Miguel Angel Moratinos, whose country currently heads the rotating EU presidency, floated the idea of an international monitoring force on Saturday.
The proposed plan reportedly includes the activation of the EU monitoring committee at Rafah and developing similar initiatives at at least three other crossings.
The force would also assist in sea patrols so that the Gaza port could open.
The proposal comes on the heels of a May 31 commando attack by the Israeli navy against a convoy carrying some 10,000 tons of humanitarian aid to the Gaza Strip.
The offensive killed nine people onboard the six-ship Freedom Flotilla which — accompanied by 700 international activists — indented to break Tel Aviv's blockade on the impoverished residents of Gaza.
The proposal is to be brought forth and discussed in the European bloc, "so that situations like the ones that happened this week will not be repeated," Moratinos said.
Bardawil said the Palestinian government will study the plan "so a consensus can be reached" on what is acceptable in terms of having international patrols in Gaza waters.