Palestine
Haneyya denies Gazan involvement in Sinai attack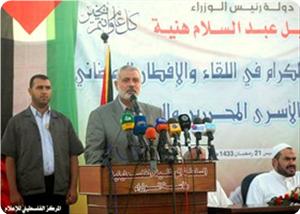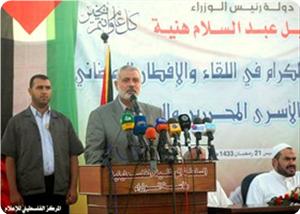 The head of the Hamas government in Gaza Ismail Haneyya urged the Egyptian president to open Rafah border crossing, denying any Gazan involvement in the bloody attack on Egyptian soldiers in Sinai.
"I call upon my brother, Egyptian President Mohammed Mursi, to open the Rafah crossing, to regain a lifeline for Gaza," Haneyya said at a dinner ending the daylong Ramadan fast in honor of the liberated prisoners in Wafa Al-Ahrar deal.
The Egyptian government has closed the Rafah crossing on Sunday after 16 Egyptian soldiers were killed in an assault at the Egypt-Israel border.
"Gaza could never be anything but a source of stability for Egypt," Haneyya added, saying those responsible for the Sinai slayings were conspiring to tighten an Israeli blockade on Gaza.
The Palestinian Prime Minister stressed that the Palestinians had nothing to do with the attacks on Sinai. "Those who kill an Egyptian are not Arab or Palestinian," he said.
"Our security investigations and political communications have not proved yet that Gaza is involved in what happened," Haneyya said.
He also reviewed his government's procedures to improve security on the borders between Gaza and Egypt, adding that any accusations on the Palestinians did not serve the relations between the two countries. "We do not want to be dragged into the Israeli trap," he added.
In another context, he stressed on the basic issues of the Palestinian cause, including refugees and prisoners issues, right of return and liberation for all the Palestinian land.
During the dinner, he welcomed the liberated prisoners, expressing great happiness for their victory over the Israeli security system and the Israeli intelligence.
Haneyya praised the resistance's brave role in the Palestinian prisoners' issue, stressing the important Egyptian role in Wafa Al-Ahrar deal.
A leader of the Gaza-based Islamist resistance movement Hamas, Salah Bardawil, said that Egypt did not accuse Gaza for the Sinai attack.
Bardawil said in a statement on Thursday that his government contacted its Egyptian counterpart and they reached nothing to prove Gaza's involvement in the attack.
He stressed that the Palestinian government in Gaza is working to stabilize the security situation on the border.
He called on the media to be accurate while reporting the news, asking them not to spread rumors and allegations without verification because that would increase tension.