Palestine
Haneyya: Four strategies to confront deal of century and annexation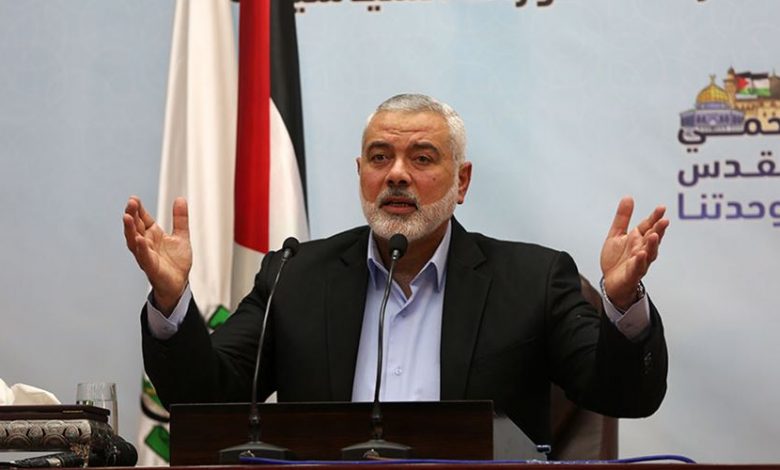 Head of Hamas's political bureau Ismail Haneyya on Thursday announced four strategies that should be followed, mainly by the Palestinian people, to confront the deal of the century and Israel's planned annexation of large parts of the occupied West Bank.
In an online symposium organized by the Islamic Movement in Jordan on the 53rd anniversary of the 1967 Naksa, Haneyya called on the Palestinians to "put the Oslo era behind their backs", as a first strategy, because it turned the Palestinian struggle from a national liberation project to a humanitarian one.
Haneyya added, "We welcome the Palestinian Authority president Mahmoud Abbas's decision to disengage from all agreements with the Israeli occupation, but we need real actions."
He pointed out that "a quarter century of negotiations has brought nothing but catastrophic results, including the growing settlement expansion on the West Bank lands."
Haneyya called for comprehensive resistance at all levels against the Israeli occupation, with armed resistance on top of it, as a second strategy. "It has been proven to all liberation movements around the world that liberation cannot be achieved unless a gun is raised," he added.
As for the third strategy, Haneyya stressed the need to "rebuild the Palestine Liberation Organization and form an organized leadership for the Palestinian people, explaining, "The organization is now almost idle, and we are not calling for an alternative to it, but we do not accept that it be misused under the slogan 'the legitimate and sole representative of the Palestinian people'."
The fourth strategy, according to the Hamas leader, provides for ending the tension and internal splits in the Arab world and devoting efforts, instead, to protecting the region from the danger of the deal of the century that serves the American-Israeli interests.
Haneyya said that the 53rd anniversary of the 1967 Naksa comes at a time that is extremely dangerous and important to the Palestinian cause, in terms of the strategic threats that it is exposed to, most notably the deal of the century, and the Israeli threat to annex the Jordan Valley on the borders with Jordan as well as large parts of the West Bank.
He praised the unstinting support provided by many Arab and Muslim countries, especially Jordan, to the Palestinian people. He said, "We in Hamas and Palestine adopt the same three NOs announced by King Abdullah II: No to dropping the right of return for Palestinians, no to the re-settlement of Palestinians in Jordan, and no to the deal of the century."
He concluded by saying, "Despite the challenges and unprecedented steps being taken to annex the Jordan Valley and West Bank with the full backing of the US administration, we still have many strengths, the most important of which is a steadfast Palestinian people who refuse to give up their land and rights."