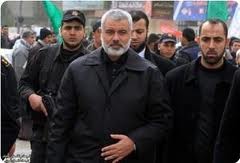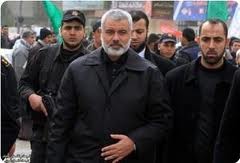 Palestinian premier Ismail Haneyya arrived on Saturday evening in the Gaza Strip after a successful visit to the Egyptian capital Cairo.
A reporter for the Palestinian information center (PIC) said that premier Haneyya and other delegates returned to Gaza after a three-day visit during which he met with Egyptian president Mohamed Morsi, secretary-general of the Muslim Brotherhood Mohamed Badie and other senior officials.
Haneyya discussed with president Morsi latest developments in Gaza and avenues of cooperation between the two sides.
During his stay in Cairo, Haneyya affirmed that he tabled during his meetings with Egyptian officials the issue of Gaza blockade, the crisis of fuel and power, the movement of individuals and goods at Rafah border crossing and the health situation.
He affirmed that the Rafah crossing would be operated according to a new policy and would be open before passengers for 12 hours every day.
The premier described his meeting with the Egyptian president as historic reflecting the Egyptian people's free will.
In a separate incident, many Egyptian activists on Saturday afternoon participated in a protest outside the "House of Wisdom" in Cairo against the Israeli intention to desecrate the Aqsa Mosque on July 29 to commemorate the alleged destruction of the temple anniversary.
The protest was called for by the Jerusalem committee of the union of Arab physicians.
The protestors condemned the repeated Israeli violations against the Aqsa Mosque and warned Israel that the post-revolution Egypt would not stand idle if anything happened to the holy Mosque.
They chanted slogans supporting Palestine and urging their president to tell Palestinian premier Ismail Haneyya to uphold the armed resistance.