Palestine
Haneyya: Liberating the land needs a religious Palestinian generation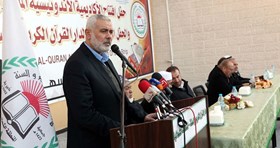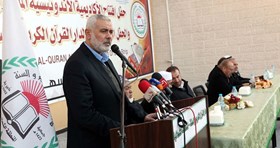 Deputy head of Hamas's political bureau Ismail Haneyya has said that building a religious Palestinian generation goes in parallel with the preparations being made for the battle of liberation.
Haneyya made his remarks during the opening ceremony of a new academy specialized in teaching the holy Qur'an and its sciences in the Gaza Strip. "We have an academy for teaching the Qur'an and another one for security and military matters as well as scientific and technological academies moving parallelly on all paths," Haneyya stated.
The Hamas official stressed the need to build a faithful Palestinian human based on the Qur'an teachings in order to liberate the land. "A rifle without Qur'an goes astray and Qur'an without power protecting it will remain a source of pride and inspiration, but it needs men carrying and implementing it and acting in accordance with its teachings," Haneyya underlined.