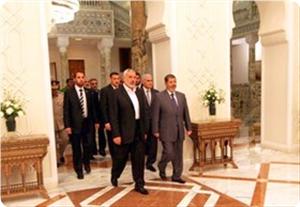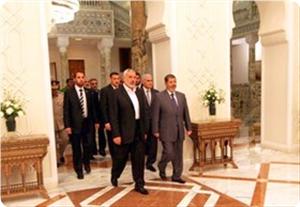 Egyptian president Mohamed Morsi welcomed the Palestinian Prime Minister Ismail Haneyya, and his accompanying delegation, after arriving in Cairo on Wednesday in his second visit to the Egyptian capital after the overthrow of former president Mubarak.
Haneyya congratulated Morsi for winning the presidency and discussed with him a number of Palestinian issues; mainly the Palestinian reconciliation, the Israeli siege on the Gaza Strip, the Israeli violations against the Islamic holy shrines and Jerusalem, Rafah crossing, the electricity and fuel crisis and the reconstruction of Gaza.
Following the meeting, the Palestinian prime minister said in press statements that the talks with the Egyptian president were positive and friendly.
Yet, Haneyya stressed that asking Egypt to ease the siege on Gaza Strip does not mean exempting the Israeli occupation of its responsibility regarding the siege, noting that "Gaza will remain a part of Palestinian land and national project and no one is working on creating a separate entity in Gaza."
The PM asserted his strong interest in Egyptian national security, and expressed his government's readiness to cooperate in all fields with Egypt to solve any common problem, adding that Sinai "will remain an Egyptian land and not a place for relocating the Palestinian people."
He pointed out that he also talked with the Egyptian president about reconciliation and the obstacles facing its implementation, saying "We have stressed that the reconciliation is irreversible."
Concerning the living conditions of the Palestinian citizens especially in the Gaza Strip, Morsi promised that there will be real facilities for citizens in Gaza in order to alleviate their suffering caused by the Israeli siege, while Haneyya stressed "the ongoing Egyptian historic role in support of the Palestinian cause."