Palestine
Haneyya to head Palestinian Legislative Council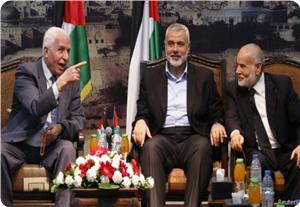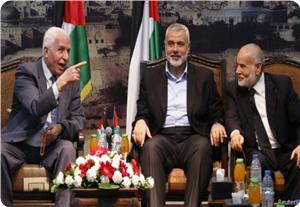 The expert on Palestinian cause Hamada Farane said that reconciliation talks between Fatah and Hamas movements have progressed amid a positive atmosphere, adding that executive and legislative powers will be shared between the two movements.
While executive power is headed by Fatah movement represented in Rami Hamdallah, the legislative power will be headed by Hamas movement represented in Ismail Haneyya, he elaborated.
Farane told Quds Press on Tuesday that talks to form a unity government have been finalized after naming Hamdallah as head of the government and Haneyya as PLC speaker, saying that the government is to be declared in the coming hours.
On the other hand, Farane ruled out the possibility of re-considering Jordanian decision to re-open Hamas's office in Amman. "It is still too early to talk about the re-opening of Hamas's office in Jordan", he said.
For his part, Gaza Prime Minister Ismail Haneyya confirmed that reconciliation talks to nominate the government ministers had moved forward during the last hours.
It has been agreed that Hamdallah will head the next unity government, he said, pointing out that he may also head the interior ministry.
"Hope still exists in our Egyptian brothers to re-open Rafah crossing before trade and people movement in light of the continued Israeli siege," Haneyya said during the opening of the second phase of developing Rafah crossing project on Tuesday.
Rafah crossing is only ruled by Egyptian and Palestinian authorities and not subject to the 2005 agreement, he added.
He pointed out that the Palestinian people are determined to overcome all challenges and difficulties, stressing his movement's adherence to Palestinian constants and resistance option.
The consultations are carried out amid very positive atmosphere and national consensus in order to meet popular and official aspiration, the Prime Minister said, adding that the reconciliation agreement and forming the government are mainly based on partnership.
Meanwhile , well-informed sources told PIC that reconciliation consultations are scheduled to be finalized on Tuesday, while the unity government is to be declared on Thursday.
The unity government includes 15 ministers headed by Hamdallah, they confirmed.
The sources pointed out that it is not yet decided whether it is going to be declared in the West Bank or in Gaza.