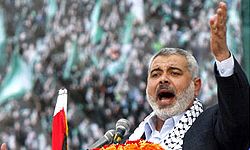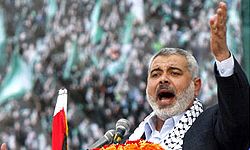 Palestinian Prime Minister Ismail Haniya said during the February 11 rallies – marking the 33rd anniversary of the victory of the Islamic Revolution – in Tehran that the Palestinian nation will confront and stand against the US and Zionist regime's threats against Iran.
Congratulating the Iranian nation and government on 33rd anniversary of the victory of the Islamic Revolution, Haniya said Iran is commemorating the victory of its Islamic Revolution at a time when other Muslim nations are celebrating the trend of Islamic Awakening in north Africa and the Middle East region.
Stressing that the Iranian nation had a share in the victory of resistance movement of the Palestinian nation, Haniya said they will surely play a role in constructing a bright future for the Palestinians as well.
He reiterated that the Palestinian nation has rejected all the US and Zionists threats against the Iranian nation and will confront them.
Underlining the need for unity among all Muslim nations, he stressed that "we will resist alien interventions in Arab and Islamic world."
Haniya arrived in Tehran on Friday upon the invitation of President Mahmoud Ahmadinejad to review regional developments, particularly those of Palestine with Iranian officials.
Millions of Iranians in Tehran and other cities poured to the streets to show their unconditional support for the Islamic Republic through staging massive rallies on February 11th.
Huge masses of people from all walks of life converged on streets and squares all over the country to express their support for the cause and ideals of the Islamic Revolution.
More than 1,700 foreign reporters have covered the Bahman 22 (February 11) rallies.
In Tehran, demonstrators then congregated at the Azadi Square, Tehran's main square and the site of major national rallies over the past three decades.
The nationwide rallies also prove to the world that the brave Iranian nation is fully ready to resist and challenge the enemies of Islam and the Islamic Republic.