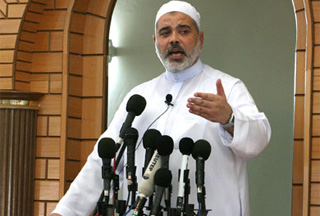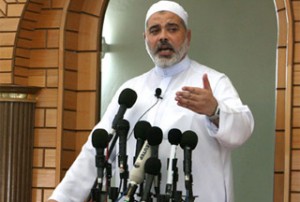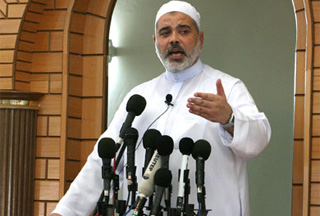 Hamas Prime Minister Ismail Haniya has called on Islamic nations to support Al-Aqsa Mosque in Jerusalem (Al-Quds).
"Islamic nations should fulfill their moral and religious duties to support Al-Aqsa Mosque," Iranian Students' News Agency (ISNA) quoted Haniya as saying after the Friday prayers.
"The real Al-Aqsa Mosque fight has started and Arab and Islamic nations should feel responsible for what's going on," he added.
"They (Islamic nations) shouldn't leave the Palestinians and Al-Aqsa Mosque alone," he explained.
Haniya further pointed out that what's happening in Jerusalem (Al-Quds) is beyond all dangers normally facing the Palestinians.
"We will never neglect Al-Aqsa Mosque and Jerusalem (Al-Quds) and will sacrifice our lives and wealth to safeguard the holy place," he asserted.
Tensions flared after Israeli police allowed Jewish extremists to enter the grounds of al-Aqsa Mosque last Sunday and then shielded them during their fights with Palestinians defending the sacred place.
After the eviction of the settlers by Muslim worshipers, the occupation forces turned on the crowds. About 16 Palestinians and several Israeli police were injured in the clashes.
Commenting on , the US President Barack Obama's wining Nobel Peace Prize the premier said the move would be meaningless unless real and deep-rooted changes were made in American policy toward recognizing the rights of the Palestinian people.
"We are in need of actions, not sayings," Haniya said. "If there is no fundamental and true change in American policies toward the acknowledgment of the rights of the Palestinian people, I think this prize won't move us forward or backward."