Palestine
Haniyeh and al-Emadi announce starting Qatari reconstruction projects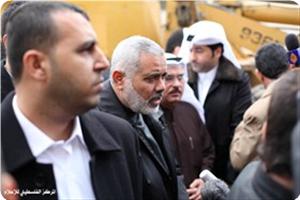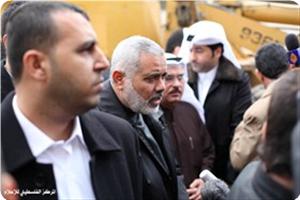 Palestinian Prime Minister Ismail Haniyeh started the implementation of the first phase of the Qatari reconstruction projects in the Gaza Strip.
The Prime Minister said during a joint news conference with Mohammed al-Emadi the Chairman of the Qatari National Committee for the Reconstruction of Gaza, on Thursday that the government is going to provide more construction projects, especially after the recent aggression on the Gaza Strip.
The Prime Minister revealed that he will visit Qatar and a number of Arab and Islamic countries to discuss the reconstruction of Gaza after the recent Israeli aggression, pointing out to the positive trends of supporting reconstruction.
Haniyeh praised Qatar's leading role in supporting the Palestinian issue, pointing out that the reconstruction of destroyed buildings of the Ministers Council building is a message to the occupation that whenever it is destroyed and demolished, the government will continue to build.
"Qatar shares us in the victory through reconstruction," he said, noting to a planned visit to meet the emir, Sheikh Hamad bin Jassim to discuss raising the reconstruction budget after the recent aggression.
The announcement of the reconstruction projects after the recent aggression is a direct challenge to the Israeli occupation, he added, saying that they cannot destroy the Palestinian people's will and determination.