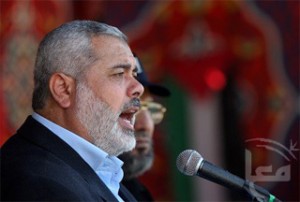 Hamas Prime Minister has called on Egyptian President Hosni Mubarak to move towards putting an end to the Israeli occupation of the Gaza Strip.
On the first anniversary of Israel's three-week war on the Gaza Strip, Ismail Haniyeh said Palestinians expect their "Arab brothers" to reduce the suffering of Gazans, who "live in the largest prison in the history of modern time."
The premier called on Cairo to open the Rafah border crossing and stop the construction of an underground steel wall along the border with the Gaza Strip.
Haniyeh went on to say that the "strategic relations" between Egypt and the movement, makes Cairo responsible to put an end to the Israeli occupation of the territory.
"The [Israeli] occupation is the main reason behind the suffering of our people," he added.
The Gaza Strip has been under Israeli siege sine Hamas took power in the sliver in June 2007.
Egyptian authorities kept Rafah border crossing — Gaza's only crossing that bypasses Israel — closed during the Gaza War.
Cairo is now building an underground wall, which has destroyed many tunnels along the border that have served as a crucial lifeline since Israel sealed off the strip from almost all vital supplies three years ago.
The wall will be 9 to 10 kilometers (6.2 miles) long, and will go as deep as 20 to 30 meters into the ground.