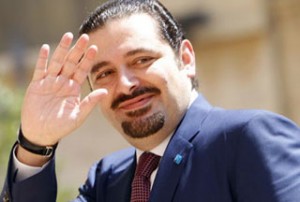 Lebanon calls on world nations to form a united front to pressure the Israeli regime into heeding the international community's will regarding the issue of Palestine.
Speaking at an economic forum in Spain, visiting Lebanese Prime Minister Saad Hariri criticized Israel for not having "authentic interest" in reaching a "wide-ranging and fair" peace arrangement with the Arab world.
The Lebanese leader urged the international community to pressure Israel with measures such as "cutting off some aid" to the Tel Aviv regime.
Hariri made the call one day after he accused Israel of igniting wars to hold up the long-stalled peace process and warned about the catastrophic consequences of a failure in the Palestinian negotiations, "bigger than the region can handle."
"Israel has to be told that 'you can start all the wars you want in the Middle East but in the end there can only be a political solution,'" Hariri said on the first day of his visit to Madrid on Thursday, stressing a political solution was the only way to make progress in the region.
The remarks came after Israeli Prime Minister Benjamin Netanyahu reportedly told close aides on Wednesday that the Tel Aviv regime would not accept a peace agreement forced on it by external forces. The hawkish premier also ruled out any agreement that did not allow Israel to retain its military presence along the border with Jordan.
Israel is generally viewed as an archenemy in Lebanon, the south of which was under Israeli occupation for more than two decades until Israeli troops withdrew from the area in 2000.
Beirut has been complaining to the international community against the constant violation of the Lebanese airspace by Israeli fighter jets and the regime's nonstop threats of a new war against the nation.
Tel Aviv launched a military offensive on Lebanon in 2006, but was faced with strong resistance from Hezbollah. The 33-day war aimed at crushing the Resistance movement failed to achieve its objective and Israel was forced to pull out from the country under UN Security Council Resolution 1701.