Iraq
Hashd al-Sha'abi inclusion in Iraq's security service helpful, says Abadi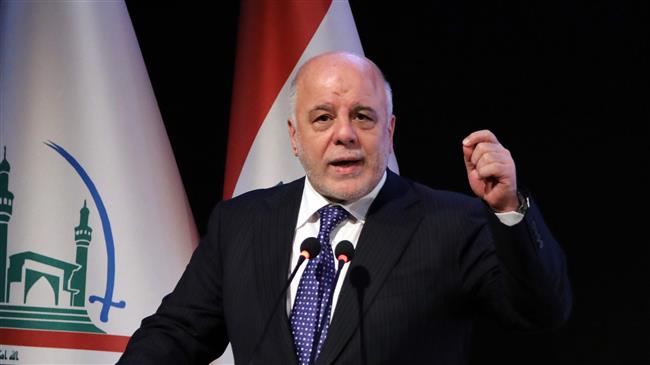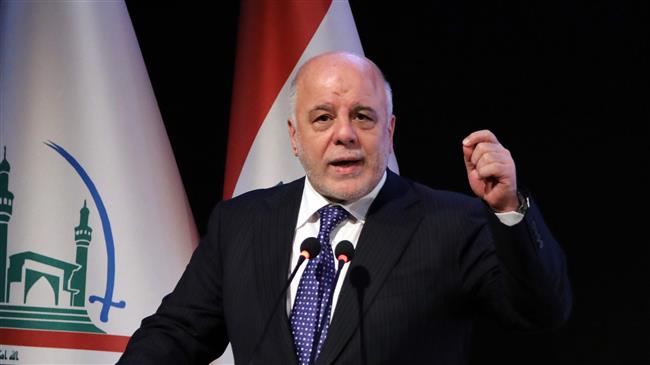 Iraqi Prime Minister Haider al-Abadi has defended his decree to formally incorporate pro-government fighters from the Popular Mobilization Units (PMU) into the Arab country's security service, stressing that such a move would help establish security and stability.
Speaking at a security and defense exhibition in Baghdad on Saturday, Abadi stated that the integration of the volunteer forces, better known by the Arabic name Hashd al-Sha'abi, "preserves the identity of security forces."
Abadi added that the move now meant that only members of state bodies could legally possess firearms.
According to the decree announced on Thursday, Hashd al-Sha'abi fighters will be granted many of the same rights as members of the military.
The decree added that Hashd al-Sha'abi fighters would be given equivalent salaries to those members of the military under the Ministry of Defense's control.
They will also be subject to the laws of military service, and will gain access to military institutes and colleges.
The fighters have played a major role in the liberation of Daesh-held areas to the south, northeast and north of the Iraqi capital Baghdad, ever since the terrorists launched an offensive in the country in June 2014.
Iraq has repeatedly condemned allegations of sectarian nature against Hashd al-Sha'abi.
In December 2016, Baghdad warned Riyadh of the ramifications of meddling in Iraq's internal affairs, after Saudi Foreign Minister Adel al-Jubeir said Iraq could not realize unity with the presence of the Popular Mobilization Units.
Saudi Arabia has repeatedly labeled the PMU, which incorporates volunteer forces from different Iraqi factions and tribes, as a Shia movement and called for the dismantling of the group.
Hashd al-Sha'abi discovers bomb-making workshop near Syria border
Separately, Hashd al-Sha'abi fighters have uncovered a workshop used for making improvised explosive devices near the border with war-ravaged Syria.
The media bureau of the Iraqi pro-government forces, in a statement released on Saturday, announced that the site contained missiles and explosives, which were meant to be used against military and civilian targets.
The statement added that Hashd al-Sha'abi forces had successfully defused the munitions, and completely vacated the workshop.