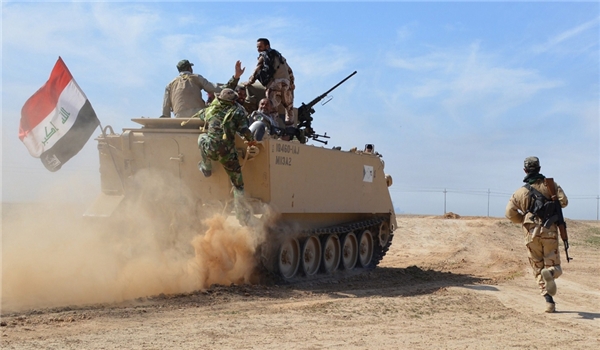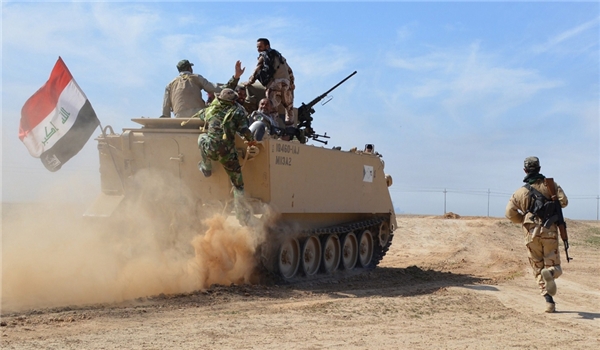 Iraq's popular forces of Hashd al-Shaabi launched heavy missile strikes on ISIL strongholds in Eastern Syria after the terrorists endeavored to infiltrate Iraq's borders in a failed move.
The Arabic-language al-Ma'aloumeh news website quoted a Hashd al-Shaabi statement as saying on Thursday that the missile unit of Hashd al-Shaabi's Brigade 45 in Western al-Anbar targeted the ISIL terrorists' bases in the town of Baqouz in Southeastern Deir Ezzur in Eastern Syria with 50 missiles, inflicting heavy losses on them.
It added that the missile attacks were launched after the ISIL militants were witnessed to be preparing to infiltrate into Iraq.
In relevant remarks late last month, a senior commander of Hashd al-Shaabi underlined his forces' full preparedness to enter the Syrian territories for military operations against the ISIL to establish security at common borders.
al-Ma'aloumeh news website quoted Hashd al-Shaabi's Commander in al-Anbar province Qassim Muslih as saying that his forces were ready to be deployed in the depth of Syria to liberate the regions bordering Western al-Anbar.
He added that Hashd al-Shaabi is waiting for the Iraqi commander in chief to issue the order to start attacking ISIL-occupied areas inside Syria near the border with Iraq.
Muslih said that the Iraqi and Syrian sides enjoyed high levels of coordination to establish security at common borders.