Iran
Head of Iran's Assembly of Experts Laid to Rest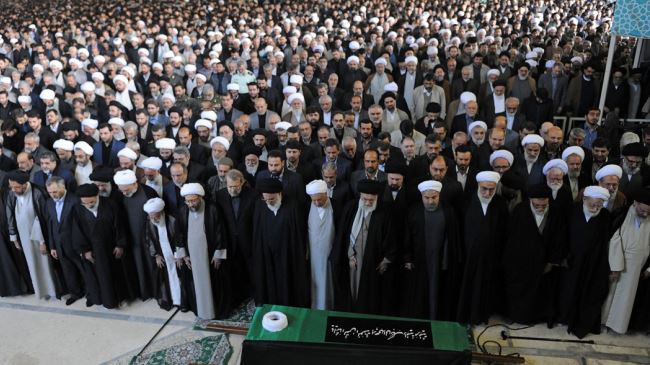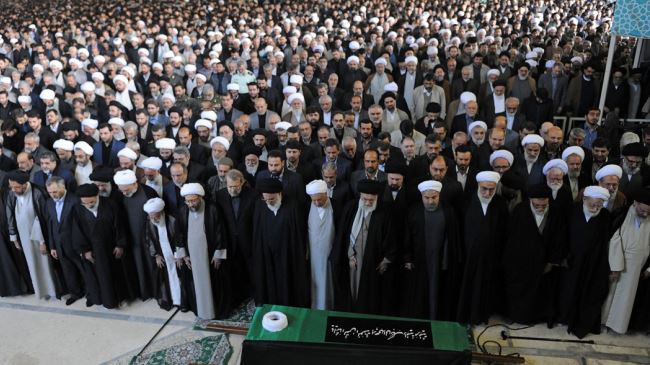 The head of Iran's Assembly of Experts Ayatollah Mohammad-Reza Mahdavi Kani has been laid to rest in Tehran on Thursday.
Attended by a huge crowd of mourners including senior clerics and high-ranking officials the funeral held in the south of the capital, Tehran.Head of Iran's Assembly of Experts Laid to Rest
Earlier in the day, Leader of the Islamic Revolution Ayatollah Seyyed Ali Khamenei led mass prayers at a ceremony in remembrance of the top religious figure.
President Hasan Rouhani, Head of the Guardian Council Ayatollah Ahmad Jannati, Chairman of the Expediency Council Ayatollah Akbar Hashemi Rafsanjani, Majlis Speaker Ali Larijani, Judiciary Chief Ayatollah Sadeq Amoli Larijani and Intelligence Minister Mahmoud Alavi, took part in the funeral.
Chief of Staff of the Iranian Armed Forces Major General Hassan Firouzabadi was among the military top brass attending the service.
The funeral procession held after the prayers brought together thousands of mourners who paid tribute to Ayatollah Mahdavi Kani while taking the senior cleric to his final resting place.
Ayatollah Mahdavi Kani, 83, passed away in Tehran on Tuesday after he went into a coma on June 4 due to a major heart attack.
In a message of condolences following the demise of Ayatollah Mahdavi Kani on Tuesday, the Imam Khamenei described the deceased cleric as an influential figure in the Islamic Republic and a true companion of the late founder of the Islamic Republic Imam Khomeini.
"This great and pious man appeared always and everywhere in the position of a religious scholar and an honest politician and a candid revolutionary," the leader said.