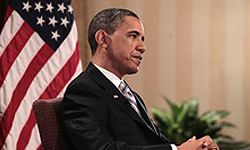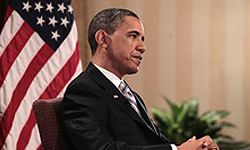 The head of the US tax agency has quit after it emerged his staff singled out conservative groups for extra scrutiny, President Barack Obama announced.
Treasury Secretary Jack Lew had asked for and accepted the resignation of Internal Revenue Service (IRS) Acting Commissioner Steve Miller, he said, BBC reported.
"I will do everything in my power to make sure nothing like this happens again," Obama told a news conference.
The scandal has been one of several to rattle the White House in recent days.
Earlier on Wednesday, US Attorney General Eric Holder faced four hours of questioning at a Congressional hearing on the IRS, the secret seizure of phone records from the Associated Press news agency, and the attack on the US consulate in the Libyan city of Benghazi.
Holder told the House judiciary committee that it would take time for the FBI to determine if any laws had been broken by IRS personnel.
In a short statement to reporters at the White House, President Obama said he had reviewed the Treasury Inspector General for Tax Administration (TIGTA) report on the IRS's targeting of conservative groups and found the "misconduct" uncovered was "inexcusable".
"Americans are right to be angry about it, and I am angry about it," he said. "I will not tolerate this kind of behavior in any agency, but especially in the IRS, given the power that it has and the reach that it has into all of our lives. "
"The IRS has to operate with absolute integrity. "
To that end, Obama revealed that the treasury secretary had requested and accepted the resignation of acting commissioner of the IRS.
"It's important to institute new leadership that can help restore confidence going forward".
The president said the treasury department would also put in place new safeguards to "make sure this kind of behavior cannot happen again" and that the IRS would begin implementing the TIGTA's recommendations immediately.
In a letter to colleagues, Miller said he would leave his role in June.
"There is a strong and immediate need to restore public trust in the nation's tax agency," he added.
Miller took over leadership of the agency in November, when the five-year term of Commissioner Douglas Shulman ended.
At the time when conservative groups were targeted, Miller was a deputy commissioner who oversaw the division responsible.
On Tuesday, the Treasury Inspector General for Tax Administration's report on the scandal placed the blame on "ineffective management".
It found IRS managers had allowed "inappropriate criteria" to be developed and stay in place for more than 18 months, resulting in "substantial delays" in processing applications for tax-exempt status, and requests for "unnecessary information", such as lists of donors.
Among the criteria used by the IRS Determinations Unit to flag groups for review, the TIGTA said, were having words like "Tea Party", "Patriots" and "9/12" in their names; or manifestos that focused on the government's fiscal policy and educating the public to "make America a better place to live", or criticized how the country was being run.
Senior IRS officials told the watchdog that the decision to focus on conservative groups had not been influenced by any individual or organization outside the agency.
Some Republicans, including two high-profile governors, have called for a special prosecutor to investigate.
House Speaker John Boehner told reporters earlier on Wednesday, "My question is, who's going to jail over this scandal? "
At least three Congressional panels are planning hearings, and House judiciary committee member Representative Darrell Issa said he had asked five mid-level IRS employees be made available for questioning.