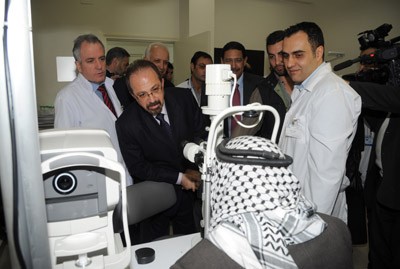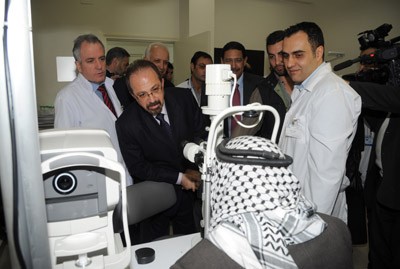 The Health Ministry on Wednesday received 14 medical devices and two operation tables to be used in hospitals in Damascus and Hasaka valued at SYP 60 million and provided by the Office of the United Nations High Commissioner for Refugees (UNHCR).
In a statement after receiving the equipment, Health Minister Dr. Saad al-Nayef said these equipment, which include were provided as part of the cooperation efforts between his ministry and international organizations with the aim of continuing to provide free medical services in general hospitals and health centers.
Al-Nayef said that the economic sanctions against Syria hurt citizens directly, depriving them from health services which are guaranteed by international laws, calling on international organizations to provide more assistance.
In turn, head of the UNHCR mission in Damascus, Tarek al-Kurdi, said that the equipment are a gift to the Syrian people and government in appreciation of the latter's free medical services.
Al-Kurdi said that a large shipment of medicine valued at USD 3.5 million are set to be delivered to Syria, with a shipment of it having already arrived, and that the medicine is mostly for treating terminal diseases and cancer.
For her part, chargé d'affaires of the World Health Organization (WHO) in Damascus, Elizabeth Hoff, said that the WHO always calls on international organizations to support the health sector in Syria, noting that the WHO didn't receive any of the funds collected in the international conference of donors on the humanitarian condition in Syria.
Health Minister, Iranian Ambassador Discuss Procurement of Medicine and Medical Equipment
Minister al-Nayef discussed with Iranian Ambassador in Damascus Mohammad Riza Shebani steps to procure more medicine and medical equipment from Iran via the Ministry's credit line which is valued at USD 200 million.
The two sides agreed to send a delegation from the Health Ministry to Iran next week to pursue this issue.
Al-Nayef said that the two countries are working on a memo of understanding for mutual acknowledgment of medicine and medical equipment registrations, which will help the flow of these items between Syria and Iran.
For his part, Shebano said that Iran will deliver 15 ambulances to the Health Ministry within the next two weeks, reaffirming that Iran will do its best to meet as much of the Syrian people's health needs as possible in light of the unjust embargo on the Syrian health sector.