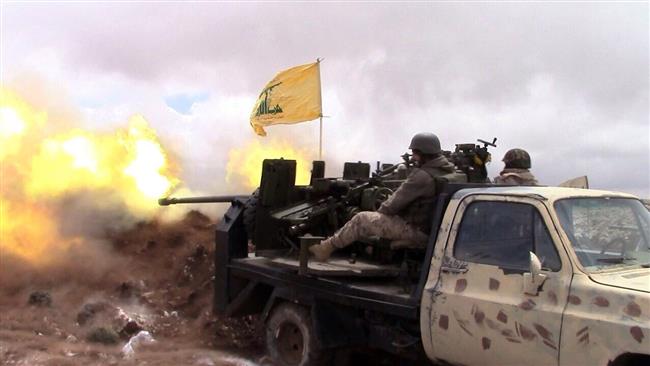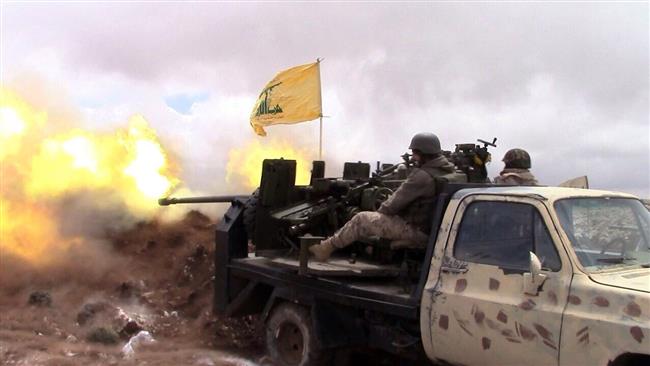 Hezbollah and Syrian army forces have reportedly made gains against the ISIL Takfiri terrorists in northeastern Lebanon.
On Friday, the Lebanese resistance movement's Al Manar broadcaster said Hezbollah and Syrian troops on Thursday advanced in the Jarajair barrens of the Qalamoun Mountains as well as the outskirts of the border town of Arsal.
The Lebanese TV also posted a video featuring the military operations against the terrorists belonging to the ISIL and the al-Qaeda-linked al-Nusra Front and footage shot by Hezbollah drones.
In an address on Wednesday, the leader of Hezbollah, Sayyed Hassan Nasrallah lauded the Lebanese resistance' fighters' "major victories" against al-Nusra Front terrorists on the outskirts of Arsal.
"On the Arsal outskirts, over the past few days, this large advance took place and this defeat was inflicted on al-Nusra Front," he said.
Nasrallah also hailed advancements made against ISIL Takfiris in Qalamoun, saying, "Over the past few days, great achievements were made in Qalamoun and, especially, the achievements made this morning. I can say that the high mountain tops and the high mountains, they are now, all of them, under the control of the Syrian Arab Army and the fighters of the resistance."
Nasrallah also vowed, "We are determined to put an end to this terrorist Takfiri presence on our border area whatever be the sacrifices. This is something decided from our perspective."
Syria has been struggling with a deadly crisis fueled by Takfiri groups since March 2011. The conflict has reportedly claimed more than 222,000 lives up until now.
The violence has also forced over 3.8 million Syrians to take refuge in neighboring countries, namely Jordan and Lebanon. More than 7.2 million others have been displaced within Syria, according to the United Nations.
Hezbollah fighters have been engaged in battles against the terrorists in the Lebanese border areas over the past weeks.