Lebanon
Middle East
Palestine
Hezbollah to teach Israel lesson if it wages new war on Lebanon: Legislator
The head of the parliamentary bloc of the Lebanese Hezbollah resistance movement says his group will teach the Israeli regime a lesson in case it launches a new act of military aggression against Lebanon.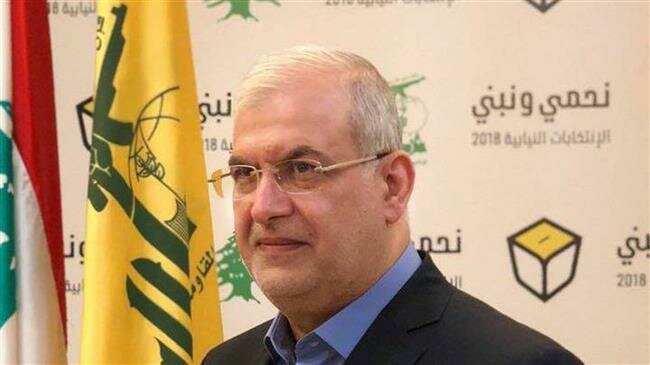 "The Israeli enemy is preparing to wage a war against us but the resistance is ready to face it with our men, society and capacity," Mohammad Raad said during a ceremony in Lebanon's southern village of Harouf on Sunday.
He highlighted that the Tel Aviv regime would be harboring delusions if it thinks it can defeat Hezbollah as the resistance movement has the capacity to paralyze the enemy.
"We will never take it at ease with an enemy that threatens our existence and role. We offer a lot of concessions internally, but we never lose sight of our enemy's … movements and we will teach Israel a lesson that will threaten its existence if it ever thinks of waging a war against our nation," Raad said.
Back on May 2, Hezbollah Secretary General Sayyed Hassan Nasrallah also cautioned Israel against waging a war on Lebanon, stressing that "Israeli forces will be destroyed" in such a case.
'Israeli forces to be destroyed if they attack Lebanon'The Hezbollah chief has warned that Israeli battalions will be destroyed in case the Tel Aviv regime launches a new war on Lebanon.
"All in Israel know that any war on Lebanon needs to be decisive and swift. Hezbollah remains fairly capable and utterly determined irrespective of sanctions imposed on it. The Zionist regime (of Israel) fears launching a new war, even on the besieged Gaza Strip, let alone Lebanon. All Israeli battalions will be destroyed under the eyes of mainstream media and the entire world, if they dare enter Lebanon. We will not compromise on even one iota of the Lebanese soil," Nasrallah pointed out.
About 1,200 Lebanese, most of them civilians, lost their lives during Israel's 33-day war on Lebanon back in the summer of 2006.
According to a 629-page report of the Winograd Commission, appointed by the Israeli regime itself, Hezbollah fighters involved in defending Lebanon against the Israeli war defeated the enemy and Tel Aviv was compelled to withdraw without having achieved any of its objectives.
The Winograd Commission was set by former Israeli prime minister Ehud Olmert in September 2006 to examine the events during Israel's 33-day war on Lebanon. It was chaired by retired judge Eliyahu Winograd.
The commission was formed in the wake of public criticism and protest over the fact that the Israeli military had effectively lost the war by failing to achieve its aim of freeing two soldiers captured by Hezbollah fighters.
UN Security Council Resolution 1701, which brokered a ceasefire in the 2006 war, calls on Israel to respect Lebanon's sovereignty and territorial integrity.