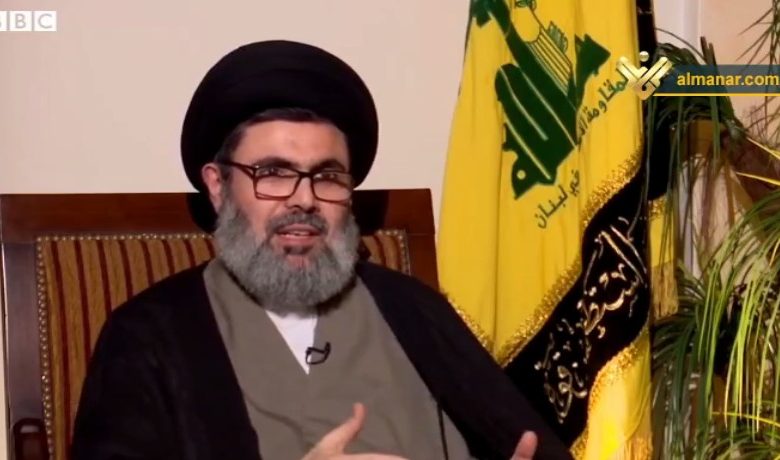 Head of Hezbollah'S Executive Council Sayyed Hashem Safieddine stressed on Friday that all pressures exerted by the United States along with anti-Resistance Israeli schemes are fruitless.
In an interview with Al-Nour radio station, Sayyed Safieddine said that Hezbollah is currently adopting policy of retaliation, noting that the Israeli enemy has been "standing on a leg and a half (trembling with fear) due to this formula."
"If we manage to keep the enemy in this way then at least we will take rest from its crimes," Sayyed Safieddine told Al-Nour's Buthaina Ollaik during Politics Today talk show.
He stressed, meanwhile, that Israeli schemes against the Resistance, especially those related to tarnishing Hezbollah's image in Lebanon were foiled.
"Today, the enemy is mulling alternative schemes to target the Resistance, and this proves its failure. 'Israel' failed to curb Hezbollah locally, and all threats made by Israeli officials along with military exercises come in context of this failure."
Future War
On the possibility of an outbreak of a future confrontation with the Israeli enemy, Sayyed Safieddine said the circumstances "were not ready". However, he did not rule out such possibility, saying: "This likelihood still exists and is still logical."
In this context, Sayyed Safieddine stressed that "we shall deal with this issue responsibly," in order to be ready for a possible confrontation, but noted that "in the same time we shall not scare our people."
Qassem Suleimani… Malek Al-Ashtar
His eminence praised Head of IRGC's Al-Quds Force martyr Qassem Suleimani describing him as the figure "who represented the leading leadership in all battlefields of the Axis of Resistance."
"Martyr Hajj Qassem's allegiance was as that of Malek Al-Ashtar the most loyal companions of the first Shiite leader, Imam Ali (a.s.)."
"The US targeted Hajj Qassem after it failed to stop his major achievements he had secured on all fronts of the Axis of Resistance," Sayyed Safieddine said.
Source: Al-Manar English Website