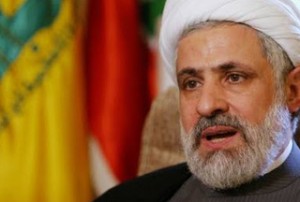 Lebanon's resistance movement Hezbollah has warned Israel over the group's determination to revenge the killing of its top military leader Imad Mughniyeh.
Blaming Israel for the assassination, Deputy Secretary General Sheikh Naim Qassem vowed on Tuesday that the movement would surely avenge Mughniyeh's killing and, in this regard, Hezbollah is not limited to specific time or place.
"Hezbollah has kept its promise. The decision to avenge Imad Mughniyeh's murder has been taken. The place and time would be known during execution (of the plan)," Qassem told Al-Alam TV.
Mughniyeh, a senior Hezbollah commander, was killed in a car bomb explosion in Syria last year.
The top Hezbollah official also warned Israel about the movement's military capacity, saying Hezbollah is able to challenge its enemies beyond Lebanon's borders.
"The Zionists believed that if they bomb an area, they can enter the area without meeting any resistance while during the 33-day war they experienced the opposite."
Sheikh Qassam said during the 2006 war, Hezbollah proved that it can act as both an army to fight the Israeli army and as a resistance movement carrying guerrilla attacks.
He also talked about Lebanon's political climate, saying the solution to the cabinet crisis is through dialogue and not media campaigns adding that national consensus is the only way to end the current crisis.