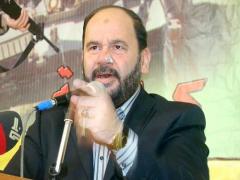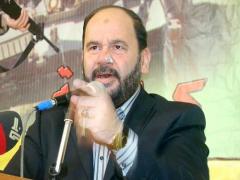 Hizbullah Official in the Bekaa region Mohammad Yaghi stressed Saturday that "the Palestinian cause is our main cause and he who abandon it, whether Palestinian, Arab or Muslim has greatly strayed the path."
During a ceremony organized by the "Popular Front for the Liberation of Palestine" on the occasion of the 45th anniversary of its launch, Yaghi said : " The region is in front of two projects: a US- Western- Zionist flavored by the Arab oil, and the resistance project that we should stick to."
"Resistance is the only way to achieves our goals," he confirmed, addressing the ceremony held in the Galilee Refugees camp.
Among the attendees was Loyalty to the Resistance bloc MP Kamel Rifai, as well as various Lebanese and Palestinian figures.
For his part, the Front's Political Relations Official in Lebanon Abu Jabar urged Arab oil countries to stop conspiracy on the Palestinian issue.
"Gaza's victory isn't for one faction but rather for all Arabs, Palestinians, liberals, and free people," he added, and noted that "this is what we learned from the Master of the Resistance [His Eminence Sayyed Hassan Nasrallah] when he granted the resistance victories to all the Lebanese."