Europe
Hollande jeered, booed at Armistice Day ceremony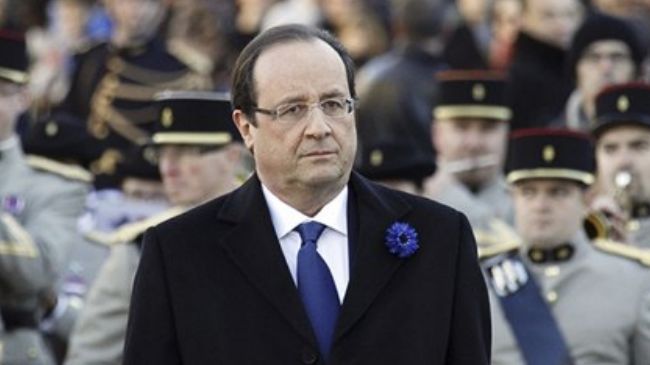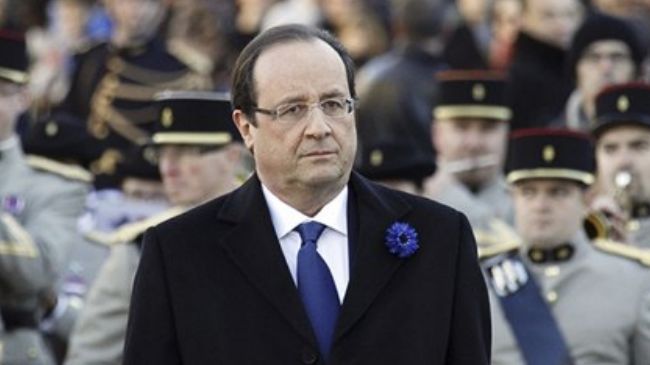 French President Francois Hollande has been jeered and booed by protesters during an Armistice Day memorial ceremony over his controversial economic policies and the country's rising unemployment.
During the ceremony in Paris on Monday, some protesters chanted "Hollande Resign!" and "Socialist Dictatorship."
The socialist president was also booed as he made his way to the Champs Elysees to lay a wreath Tomb of the Unknown Soldier beneath the Arc de Triomphe in the capital city.
Police arrested 70 protesters in the scuffles that ensued.
"I find it absolutely shameful that we don't have the right to speak up without being arrested," said a protester, adding that "Saying 'Hollande, step down' is not offensive."
Armistice Day in France, celebrated on November 11, remembers those who died or were injured in World War I and other wars.
Hollande's popularity has sunk to record lows amid growing dissatisfaction over weak economic growth, high taxes and rising unemployment.
A poll conducted by research firm Ipsos, which was published on Monday, indicated that only 21 percent of the French approve of the president policies, 24 percent lower than the figure in October.
That makes Hollande the most unpopular French president in more than half a century.
French government's economic policies have angered the citizens. Furthermore, the country's unemployment rate reached record highs in September, with nearly 3.3 million people out of work.