Europe
Hollande says France will form National Guard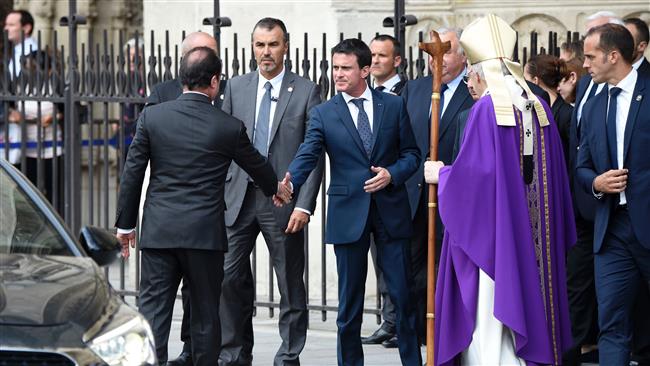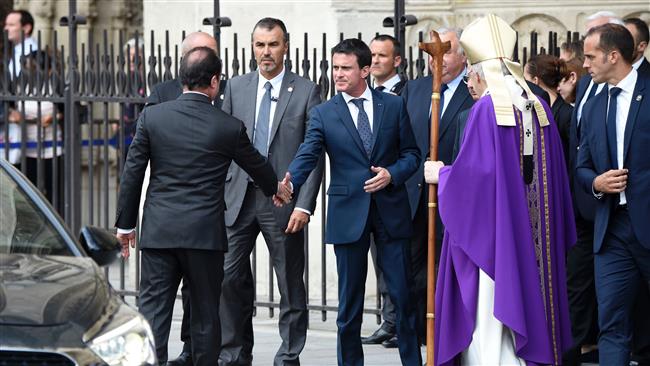 French President Francois Hollande has announced the creation of a National Guard, in the wake of a series of terrorist attacks, including the murder of a Normandy priest, in the European country.
Hollande said on Thursday that the security structure would be formed to better protect citizens against terror attacks.
He added that the parliament will meet in September for talks on the formation of the force.
Meanwhile, the Elysee Palace said, in a statement, on Thursday that the decision was taken after Hollande's meeting with the lawmakers.
"President of the Republic [Hollande] decided to establish the National Guard from the existing operating reserves," read the statement.
The president also expressed the intention to "as soon as possible begin the establishment of this structure, which would serve to protect the French people," the statement added.
This comes as the French government is under criticism over what is seen as security failures, following a series of terror attacks over the past months.
In the most recent attack, two knife-wielding men took a number of people hostage at a church in the town of Saint-Etienne-du-Rouvray in France's northern Normandy region on July 26, and slit the throat of an elderly priest.
The two assailants were later shot dead by police officers. After the incident, Amaq news agency, which is affiliated to the Daesh Takfiri terrorist group, announced that two of its members had carried out the attack.
A state of emergency has been in place in France since last November, when assailants struck at least six different venues in and around the capital, Paris, leaving 130 people dead and over 350 others injured.
The city of Nice also saw a deadly assault on July 14, when 84 people were killed as a Tunisian drove his truck into a crowd of revelers on Bastille Day, the French national day.
Daesh claimed responsibility for both terror acts.
The French parliament has already extended the state of emergency for another six months.
On Tuesday, Hollande said the threat of the Daesh Takfiri terrorist group to Europe has never been so severe, pledging to use "all means" to defeat terrorists. 
"In the face of this threat that has never been greater in France and Europe, the government is absolutely determined [to defeat] terrorism."
France has been among the sponsors of militant groups fighting the Syrian government. French policies have been among factors blamed for the rise of terror groups in Syria and Iraq.