Middle East
Syria
Homs: Syrian Army Sends Fresh Troops to Palmyra to Uproot ISIL
The Syrian Army dispatched a massive military convoy to Palmyra in Eastern Homs from Damascus to clean up the ISIL remnant from Homs' Badiyeh (desert) region.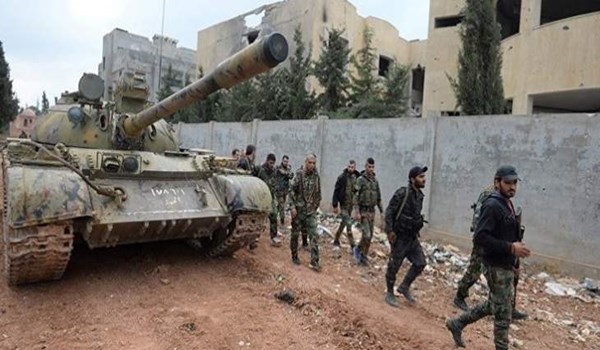 The Syrian Army has sent about 300 troops together with massive military equipment to Badiyeh al-Sham in Palmyra region in Eastern Homs from the surrounding areas of Damascus, a military source said.
The source pointed to the Syrian Army's military reinforcements near Palmyra, and said that the dispatch of the Syrian Army troops takes place in line with the army's military operations to fully get rid of the remaining ISIL terrorists in Badiyeh region of Homs.
Meantime, the Syrian Army and Air Force also pounded the ISIL's movements in Badiyeh al-Sukhna, al-Moizaleh Dam and Wadi Abyaz Dam in Eastern Homs, inflicting heavy losses on the terrorists.
In a relevant development in late April, the Syrian Army dispatched fresh military convoys to areas near Palmyra in Eastern Homs for cleansing operations against the remnants of the ISIL terrorist group who have returned to the region through cooperation with the US-backed militants who are deployed at borders in Southeastern Syria.
Hundreds of the Syrian Army troops together with tens of military vehicles and heavy military equipment have been sent to al-Sukhneh region in Eastern Palmyra in Eastern Homs province, a military source in Eastern Syria was quoted by the Arabic-language media outlets as saying.
The Syrian Army has reinforced its military positions in Eastern Homs, the source added.
He noted that the dispatch of reinforcements by the Syrian Army to the Badiyeh of Homs is taking place while the army is preparing for imminent military operations to cleanse the several hundred ISIL terrorists who have returned to a region from Badiyeh in Eastern Homs to the surrounding areas of Bukamal in Eastern Deir Ezzur.
The source also pointed to the Terrorists' attacks on the Syrian Army's military positions in Eastern Badiyeh, specially the roads linking Syria to Iraq, and said that the Syrian Army is planning to restore security to the strategic Bukamal road which connects Syria to Iraq by conducting fresh military operations.