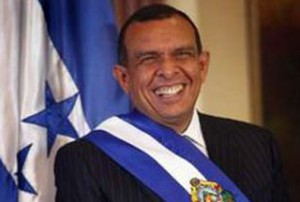 The new Honduran government has re-established relations with 29 nations, which had severed relations with Tegucigalpa following a military coup that removed the country's constitutional President Manuel Zelaya.
Honduran Foreign Minister Mario Canahuati, in an interview with El Tiempo daily, announced that France, Spain, Italy, Guatemala and Germany are among the countries that have restored ties with the Central American nation, AFP reported.
Relations with the major regional countries including Brazil, Mexico, Venezuela and Nicaragua have yet to be normalized, added Canahuati.
Zelaya who was ousted in a June 28, 2009, military coup failed in his attempts to return to power.
The de facto regime led by Roberto Micheletti, paved the ground for an early presidential election, in which Porfirio Lobo won.
Lobo is facing a critical test as Honduras, following the coup, was isolated on the international arena and now his government should fight for recognition both regionally and internationally.
Lobo has not been invited to the upcoming second Summit of Latin America and the Caribbean, since Mexico, the host of the event, says it does not recognize the Honduran government.