World News
Hong Kong delays debate on extradition bill as protests swell
Hong Kong has been brought to a standstill by tens of thousands of protesters who have moved to occupy key roads to a government complex, just hours before a proposed extradition bill was due to be debated in the city's legislature.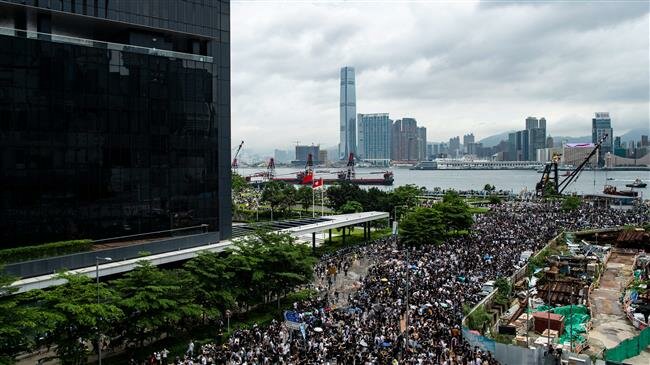 The protesters, most of them young people and students in black, moved toward Lung Wo Road, an important east-west artery near the offices of Hong Kong Chief Executive Carrie Lam, as well as the Legislative Council Complex on Wednesday.
They brought traffic to a standstill and prompted the government to postpone the second round of the debate on the extradition bill "to a later time."
The government also called on staff to avoid driving to government buildings.
More than 100 businesses said they would be closed Wednesday to support the protests, and the city's major student unions announced they would boycott classes to attend the rallies.
Riot police have begun using pepper spray and water cannon to push back the protesters near the entrance of the Legislative Council.
If approved, the extradition law would allow Hong Kong to send suspects to other jurisdictions around the world, including to China and Taiwan.
The protesters, who have vowed to block the changes, consider the move a threat to the city's autonomy.
Hong Kong, which has a separate legal system from mainland China, enjoys a degree of autonomy under a 50-year deal between China and Hong Kong's former colonial ruler, Britain.
The changes, which according to the government would only apply to fugitives accused of serious crimes, have had support among local organizations.
Hong Kong leader Carrie Lam has so far rejected calls to withdraw the plan. A final vote is expected on June 20.
Western governments have voiced their opposition to the plan. China has reacted by warning against interference in its affairs.