World News
Hong Kong police say rioters push city to verge of dangerous situation
Violent protests have pushed Hong Kong to the verge of a very dangerous situation; say officials a day after the city saw some of the fiercest clashes between rioters and security officers.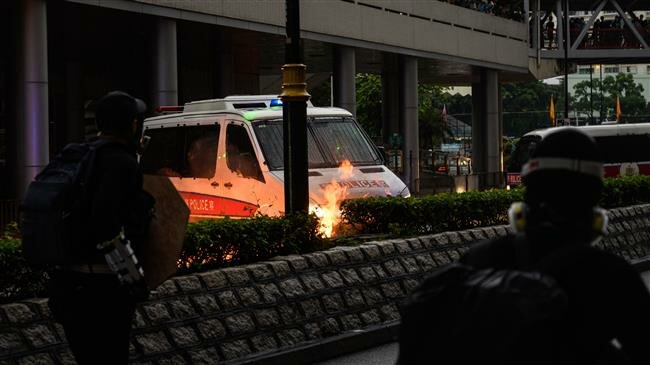 People took to the streets for the second consecutive day, on Sunday, as part of weeks-long protests, which initially erupted in mid-June in protest to a proposed extradition bill.
While the proposed bill— that would have allowed suspects to be extradited and stand trial in mainland China — has been suspended, protests have continued and morphed over time into unruly riots.
Hong Kong has been governed under a "one-country, two-system" model since the city — a former British colony — was returned to China in 1997.
The government issued a statement on Sunday saying, "The escalating illegal and violent acts of radical protesters are not only outrageous, they also push Hong Kong to the verge of a very dangerous situation."
Hong Kong police disperse brick-throwing protestersPolice in Hong Kong fire teargas and use water cannon to disperse crowds of brick-throwing protesters.
Police also said in a statement that the Sunday protests in the suburb of Tsuen Wan were some of the worst in twelve weeks of unrest.
Rioters hurled Molotov cocktails and threw bricks at security forces. On one occasion, rioters cornered a group of officers and attacked them with bricks and other weapons, police said.
A police officer fell to the ground under a barrage of blows and was "facing threats to life," police said.
This prompted police officers to discharge their weapons for the first time in more than two months.
Police clarified in a statement on Monday that six officers had drawn their pistols and one had fired the warning shot into the air.
Police Superintendent Leung Kwok-wing said that the shot was fired because the lives of police officers were "under threat".
Security forces fired rubber bullets and tear gas, and also used two water cannon vehicles to disperse protesters.
According to the police, fifteen officers were injured during the clashes.
The Police also arrested 36 people for unlawful assembly, possession of weapons and assaulting a police officer.
"Police appeal to members of the public to make a clean break with violent protesters," the statement added, vowing "relentless action" to bring the perpetrators to justice.
More rallies, however, are planned in the days and weeks ahead, including a rally at Hong Kong's Cathay Pacific Airways headquarters on Wednesday.
China says not to 'sit idly by', rejects another TiananmenChina warns protesters in Hong Kong, but says there "won't be a repeat" of the Tiananmen Square incident.
A senior Hong Kong official said on Saturday that the mainland's military could intervene during any civil unrest.
"The soldiers stationed in Hong Kong are not straw men meant to just stay in the garrison; they are an important part of the 'one country, two systems," said Maria Tam Wai-chu, deputy director of the Hong Kong SAR Basic Law Committee.
China also warned earlier that it will not sit idly by and watch as the unrest continues.
Images released last week, showed thousands of Chinese military personnel waving red flags and parading at a sports stadium in the city of Shenzhen, just across the border from Hong Kong.
Dozens of armored personnel carriers and supply trucks were also parked nearby.