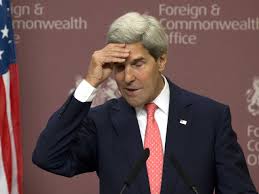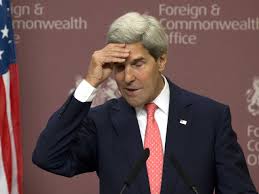 US Secretary of State John Kerry has called on Iran to help end the ongoing wars in the Middle East as Washington's allies continue bombing Yemen and supporting terrorist groups operating in Syria.
Kerry made the remarks on Thursday during a joint press conference with Saudi Arabia's Foreign Minister Adel al-Jubeir, after the ministerial meetings of the six-nation [Persian] Gulf Cooperation Council ([P]GCC) leaders on Thursday in the Bahraini capital Manama.
Kerry accused the Islamic Republic of being involved in the disruptive activities and "the destabilizing actions" in the Middle East region.
"We call on Iran to constructively join in the efforts to make peace and to help us to resolve Syria and rather than to continue to send weapons to Houthis, join in the effort… to make peace and to work toward a cessation of hostilities," he said.
Since March 2011, the United States and its regional allies, in particular Saudi Arabia, Qatar and Turkey, have been conducting a proxy war against Syria.
The years-long conflict has left more than 470,000 Syrians dead and half of the country's population of about 23 million displaced within or beyond the Arab country's borders.
In 2012, the US Central Intelligence Agency (CIA) trained Daesh terrorists in Jordan to destabilize the Syrian government, who are now controlling large parts of Iraq and Syria. They are committing war crimes and crimes against humanity in the areas under their control.
In Yemen, America's ally, Saudi Arabia, has been waging a war people since late March 2015 in a bid to return fugitive former Yemeni president, Abd Rabbuh Mansur Hadi, to power. Nearly 9,400 Yemenis, including 4,000 women and children, have lost their lives in the deadly military campaign.
Yemenis, in return, have been carrying out retaliatory attacks on the Saudi forces deployed in the country as well as targets inside Saudi Arabia.