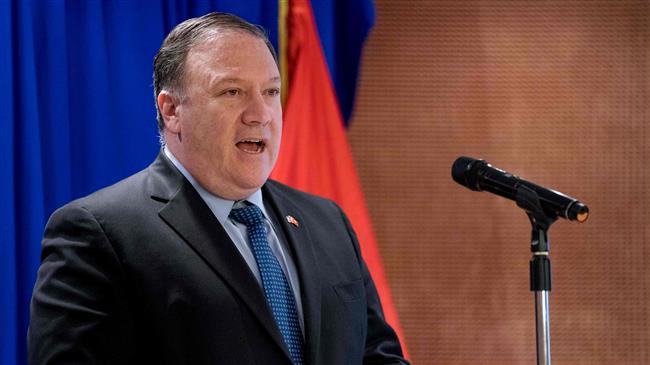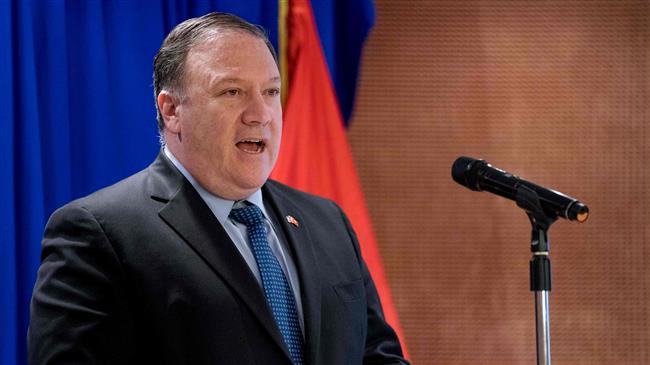 The United States called on North Korean leader Kim Jong-un on Friday to act on his promise to give up nuclear weapons and said the world, including China and Russia, must continue to enforce sanctions until he does so.
After briefing UN Security Council envoys in New York, US Secretary of State Mike Pompeo and US Ambassador to the United Nations Nikki Haley warned against loosening sanctions on Pyongyang after Russia and China suggested the council could discuss such a move.
The UN Security Council has unanimously boosted sanctions on North Korea since 2006 in a bid to choke off funding for Pyongyang's nuclear and ballistic missile programs.
US President Donald Trump and the North Korean leader met for the first time in Singapore last month, and Pompeo followed up with inconclusive talks with North Korea this month. He reiterated on Friday that he had made progress.
"Chairman Kim made a promise … that he was prepared to denuclearize. The scope and scale of that is agreed to. The North Koreans understand what that means," Pompeo told reporters. "We need to see Chairman Kim do what he promised the world he would do."
Pompeo didn't elaborate and sidestepped a question on what the first step should be.
Nonetheless, Pompeo told reporters after meeting behind closed doors with the 15 council members that Trump "remains upbeat about the prospects for denuclearization" following the historic summit in Singapore. "So do I, as progress is happening," he added.
The Trump administration hopes that one day, North Korea will be at the United Nations "not as a pariah but as a friend," Pompeo said. But "it will take full enforcement of sanctions for us to get there" as well as Kim following through "on his personal commitments."
At the summit, Trump and Kim agreed to work toward denuclearization of the Korean Peninsula, without describing when and how it would occur.
Follow-up talks this month between Pompeo and North Korean senior officials in Pyongyang had a rocky start, with North Korea accusing the United States of making "unilateral and gangster-like" demands.
Pompeo stressed Friday that the 15 Security Council nations "are united on the need for final, fully verified denuclearization of North Korea."
Pompeo also called for an end to sanctions violations, and Haley said the best way the talks between the United States and North Korea could be supported was by enforcing, not easing, sanctions.
The United States a week ago complained to the UN Security Council North Korea sanctions committee that as of May 30, there had been 89 illicit ship-to-ship transfers of refined petroleum products this year by Pyongyang, breaching a UN sanctions cap.
It asked the committee to order a halt to refined petroleum exports to North Korea, but Russia and China put a "hold" on the request on Thursday and asked for more detail on the US accusation.
"For China and Russia to block it — what are they telling us? Are they telling us that they want to continue supplying this oil? They claim they need more information. We don't need any more information," Haley said.
"We put pressure today on China and Russia to abide and be good helpers through this situation and to help us continue with denuclearization," she said.
However, Russia's Deputy UN Ambassador Dmitry Polyanskiy said there was no reason for Haley to reproach Russia.
"We abide by all decisions. We just ask questions totally in line with sanction committee rules. … We didn't block anything — we put it on hold. She needs to study basics more."
Pyongyang for decades has been pushing a concept of "denuclearization" that bears no resemblance to the American definition, vowing to pursue nuclear development unless Washington removes its 28,500 troops from South Korea and removes the nuclear umbrella defending South Korea and Japan.
China, which is North Korea's closest ally and responsible for more than 90 percent of its trade, backs North Korea's call for a "phased and synchronous" approach to denuclearization.
Last month, Beijing suggested the Security Council consider suspending or lifting sanctions on North Korea if it is in compliance with UN resolutions and making progress in negotiations. Russia said Friday it also backs this approach.
(Source: Agencies)