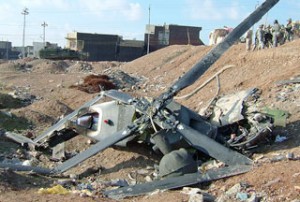 Yemen's Houthi fighters say they have shot down a Saudi helicopter as the Saudi foreign minister denies that Riyadh is being involved in a military offensive in Yemen.
A Houthi spokesman says the chopper crashed near Al-Khouba on the Saudi-Yemeni border. Al-Khouba is a border city in the Saudi Province of Jizan.
The development comes as Tehran took a swipe at Saudi Arabia for its violent military offensive against the civilians in northern Yemen.
"Saudi Arabia was expected to mediate in Yemen's internal conflict as an older brother and restore peace to the Muslim states, rather than launching military strike[s] and pounding bombs on Muslim civilians in the north of Yemen," said Iranina President Mahmoud Ahmadinejad.
Saudi Foreign Minister Saud al-Faisal, however, denied any Saudi involvement whatsoever in military attacks against the Yemeni Shia fighters, known as the Houthis.
"I don't know where he (Ahmadinejad) got this accusation … that the kingdom is waging war on the Houthis," al-Faisal said in Riyadh.
He added that even the Houthis don't say such a thing. "The real accusation is that Iran is the one that meddles in Yemen's internal affairs."
Meanwhile, it has been reported that at least 15 civilians were killed in the latest Saudi airstrikes in Yemen on Friday.
Riyadh joined Yemen's offensive against Houthis after accusing them of killing a Saudi border guard and occupying two border villages on November 3. Houthi fighters have denied the claims.
The conflict in North Yemen began in 2004 between Sana'a and Houthi fighters. Relative peace had returned to the region until August 11, when the Yemeni army launched a major offensive, dubbed 'Operation Scorched Earth', against Sa'ada Province.
The government claims that the fighters, who are named after their leader Abdul Malik al-Houthi, seek to restore the Shia imamate system, which was overthrown in a 1962 military coup.
The Houthis, however, say they are defending their people's civil rights, which the government has undermined under pressure from Saudi-backed Wahhabi extremists.
Civilians have been the main victims of the all-out war which has been fueled by foreign military intervention in the poorest Arab country in the region.
The United States has recently launched air raids against several targets in southern Yemen as part of what Washington claims are efforts to wipe out hundreds of al-Qaeda fighters operating in the country.
News and eye-witness reports, however, indicate that civilians, including women and children, have been the main victims of recent US air raids in Yemen.