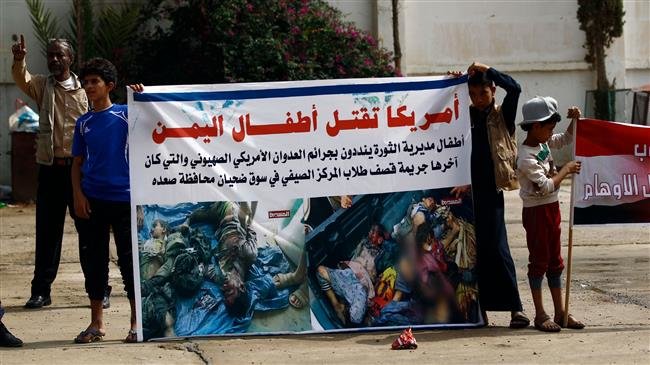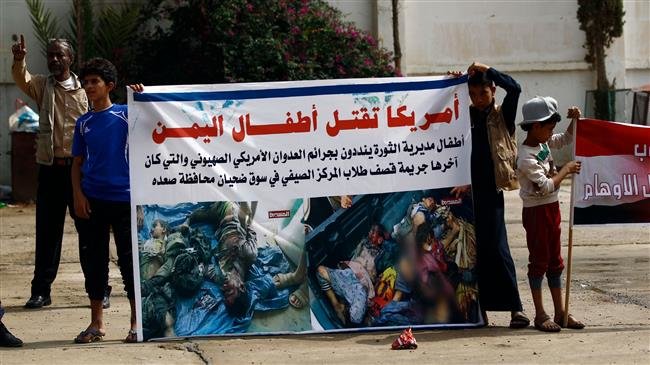 The Houthi Ansarullah movement says it has rejected a US proposal for mediation in efforts to resolve the conflict in Yemen, holding Washington responsible for the Saudi-led aggression against Yemen.
Mohammed al Bakhiti, a member of Ansarullah's Political Council, told Iran's Arabic-language Al-Alam news network on Wednesday that peace will be restored to Yemen if the US ends its war on the impoverished country.
He also expressed his objection to any solution to the Yemen crisis that ignores the country's independence and sovereignty.
On Tuesday, American officials called for a ceasefire in Yemen and demanded that the sides to the conflict to come to the negotiating table within a month.
US Defense Secretary Jim Mattis said the US had been watching the conflict "for long enough," and that he believes Saudi Arabia and the UAE are ready for talks.
The Yemeni foreign minister says his country is sovereign and will not accept American diktats.
"We have got to move toward a peace effort here, and we can't say we are going to do it sometime in the future," he said. "We need to be doing this in the next 30 days."
Mattis' call was later echoed by US Secretary of State Mike Pompeo, who urged the coalition to stop airstrikes in Yemen's populated areas, saying the "time is now for the cessation of hostilities."
Bakhiti further stressed that the US's proposed solution to the Yemen conflict includes dividing the country.
Mattis' plan, supported by Saudi Arabia and the UAE, is meant to achieve goals that have not been attained during the war on Yemen, he added.
The only solution to the crisis is intra-Yemeni talks and non-interference by foreign parties, the Houthi official said.
In March 2015, Saudi Arabia and its allies launched a brutal war against Yemen in an attempt to reinstall the country's former Riyadh-allied regime and crush the Houthis.
The Western-backed imposed war, however, has so far failed to achieve its stated goals, thanks to stiff resistance from Yemeni troops and allied Houthi fighters.
The offensive, coupled with a naval blockade, has destroyed Yemen's infrastructure and led to famine as well as a cholera outbreak in the import-dependent state.