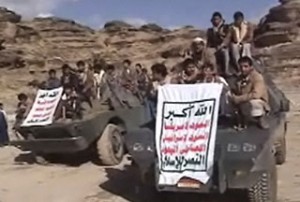 Houthi fighters have expressed their willingness to withdraw from the border area of al-Jabiri on the condition that Saudi military forces halt their air strikes on northern Yemen.
"We are prepared to withdraw from [those] sites if… Saudi Arabia does not attack any one of us from its territory," a spokesman for the Houthis, Mohammed Abdel Salam, told AFP Wednesday.
Speaking during a conference in al-Khoba in the southern province of Jizan on Tuesday, Saudi Deputy Defense Minister Prince Khaled bin Sultan said that the bulk of operations against the fighters was now over, but noted that a small border village called al-Jabiri was still under Houthi control.
The Saudi military commander also gave Houthis 24 hours to withdraw from the Saudi border village and threatened them with a fierce confrontation, should they defy the order.
Seventy-three Saudis have been killed and 26 have gone missing since Saudi Arabia joint forces with the Yemeni government against the Houthi fighters on November 3. The number of wounded Saudi troops has reached 470, with 60 still hospitalized.
The conflict between the central government in Sana'a and the Houthis of northern Yemen began in 2004. The conflict intensified in August 2009 when the Yemeni army launched Operation Scorched Earth, alleging that the Houthi fighters had violated the terms of a ceasefire by taking foreign visitors hostage.
The Houthis say their civil rights have been violated, adding that they are suffering from political, economic, and religious marginalization due to the policies of the Yemeni government, which they have also accused of widespread corruption.
The Saudi air force has further complicated the conflict by launching its own operations against Shia resistance fighters.
Houthi fighters say that Saudi airstrikes on northern Yemeni villages indiscriminately target civilians. According to the fighters, the Saudis are using unconventional weapons, including white phosphorus bombs, against civilians in northern Yemen.
The UN High Commissioner for Refugees estimates that since 2004, up to 175,000 people have been forced to leave their homes in Sa'ada and take refuge in overcrowded camps set up by the United Nations.