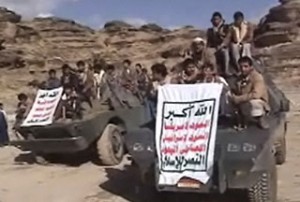 Yemen's Houthi fighters have offered to hold talks with the government on the condition that it halts its attacks on the Shias.
A statement on the Houthis' website publicized the intention for dialogue on Friday. A spokesman for the fighters said the proposal had come after President Ali Abdullah Saleh urged the Houthis to accept the government's conditions for peace.
The central government has demonstrated five years of hostilities against the Houthis, which it accuses of violating the terms of earlier peace deals by taking foreign visitors hostage.
The government stepped up its offensives earlier in the year.
Saudi Arabia reinforced the armed campaign in November reportedly venturing beyond the Houthis positions into the areas resided by Shia civilians and using banned weaponry including flesh-eating phosphorus bombs.
Riyadh, for its part, blamed the fighters for a cross-border attack on the Saudi territory.
Yemen's Shia minority, accuse Riyadh and Sana'a of waging a campaign of social, economic, and religious marginalization of Shia communities and of funding al-Qaeda and Wahhabi extremists to help quell the Shia resistance.
The offensives have claimed the lives of hundreds of people, causing the displacement of more than 200,000 civilians.
The Houthis, however, have also offered to hold peace talks with the Saudis, should the Kingdom abort the anti-Shia operations. Riyadh, the fighters say, is to prove that it is after peace and stability in Yemen, and that it respects the rights of the Yemeni nationals.