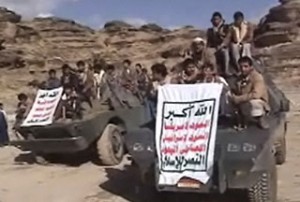 Houthi fighters have managed to repulse Saudi Arabian forces trying to infiltrate into the province of Sa'ada in northern Yemen, killing an unspecified number of Saudi soldiers in a battle in the border region.
In a statement issued on Tuesday, Yemen's Houthis said they pushed back Saudi troops from Al-Muannaq village in northern Yemen on the border with Saudi Arabia and also destroyed eight Saudi tanks.
The Houthi fighters say Saudi forces had fired 256 missiles and carried out air strikes against the Sa'ada region.
The statement also said that Saudi Apache helicopter gunships launched two air strikes on the city of Dahyan on Tuesday as Riyadh continues its air raids against the mountainous regions of northern Yemen. It added that Saudi ground forces used heavy machine guns during the operation.
The Saudi army also shelled Al-Malaheet and the villages adjacent to it, which caused many civilian deaths.
Seventy-three Saudis have been killed and 26 have gone missing since fighting broke out between Saudi forces and the Houthi fighters on November 3.
The number of wounded Saudi troops has reached 470, with 60 still hospitalized.
The conflict between the central government in Sana'a and the Houthis of northern Yemen began in 2004. The conflict intensified in August 2009 when the Yemeni army launched Operation Scorched Earth in an attempt to crush the Houthi movement.
The Houthis say their civil rights have been violated and they are suffering political, economic, and religious marginalization due to the policy of the Yemeni government, which they have also accused of widespread corruption.
The Saudi air force has further complicated the conflict by launching its own operations against Shia resistance fighters.
Houthi fighters say that Riyadh pounds their positions, and Saudi forces strike Yemeni villages and indiscriminately target civilians. According to the fighters, the Saudis are using prohibited weapons, including white phosphorous bombs, against civilians in northern Yemen.
The US military is also continuing its air raids on Yemen's regions of Amran, Hajjah, and Sa'ada, which have suffered much due to the joint Saudi-Yemeni government offensive against the Houthi fighters.
The UN High Commissioner for Refugees estimates that since 2004, up to 175,000 people have been forced to leave their homes in Sa'ada and take refuge in overcrowded camps set up by the United Nations.