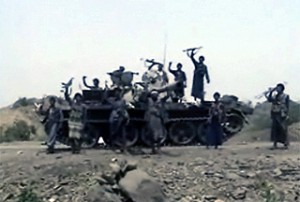 Houthi fighters say that they have managed to repulse an attack which was launched by the Saudi Arabian army into northern Yemen.
According to Lebanon's Al-Manar television network, Houthi fighters said in a statement that they repulsed Saudi Arabia's attack in the Jebel Dhar al-Hamar region and the villages around it on Friday.
According to the Houthis, Saudi fighters also pounded various areas in northern Yemen four times.
The conflict in northern Yemen began in 2004 between Sana'a and Houthi fighters. It intensified in August 2009 when the Yemeni army launched Operation Scorched Earth in an attempt to crush the fighters in the northern province of Sa'ada.
Saudi forces began fighting with Yemeni Shia resistance fighters and bombing their positions on November 4, 2009 after accusing the fighters of killing Saudi border guards.
Sana'a claims the fighters are seeking to revive the imamate form of government that ceased in Yemen in 1962.
The Houthis accuse the Yemeni government of large-scale corruption, violation of civil rights, and the economic and political marginalization of their group because of religious belief.
Houthi fighters say that Riyadh regularly strikes Yemeni villages and indiscriminately targets civilians. According to the fighters, Saudis are using toxic materials, including white phosphorus bombs, against civilians in northern Yemen.
The UN High Commissioner for Refugees estimates that since 2004, up to 175,000 people have been forced to leave their homes in Sa'ada and take refuge in overcrowded camps.