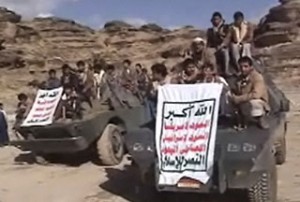 Houthi fighters say they have dismantled a Saudi army regiment, killed several soldiers destroyed an army tank as the regiment attempted to cross the border into northern Yemen.
The Saudi military's push towards Mount Mamdouh failed, the Houthis said on Tuesday, adding that the Saudi army received the heavy blow after a string of hour-long clashes.
The conflict in northern Yemen began in 2004 between Sana'a and Houthi fighters. Relative peace had returned to the region until August 11, when the Yemeni army launched a major offensive, dubbed Operation Scorched Earth, against Sa'ada.
The government claims that the fighters, who are named after their leader Abdul Malik al-Houthi, seek to restore the Shia imamate system, which was overthrown in a 1962 military coup.
The Houthis, however, say they are defending their people's civil rights, which the government has undermined under pressure from Saudi-backed Wahhabi extremists.
The Saudi Arabian government has added to the problem by launching its own offensive against northern Yemen.
While Riyadh insists that it is targeting Houthi positions on 'Saudi territory', the fighters say Saudi Arabia is bombing Yemeni villages with chemical weapons and causing the death of Shia civilians.
As Sana'a does not allow independent media into the conflict zone, there are no clear estimates available as to how many people have been killed in the Shia province of Sa'ada since 2004 or in the recent wave of violence.
According to UN estimates, however, during the past five years, up to 175,000 people have been forced to leave their homes in Sa'ada to take refuge in overcrowded camps set up by the international body.