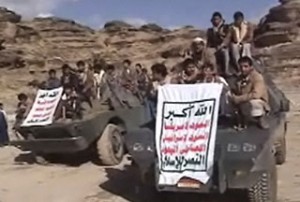 The Yemeni military sources say Houthi fighters have surrounded an army infantry brigade in the northern province of Sa'ada for at least two months.
The 107 infantry brigade have been surrounded for more than two months in the southern regions of al-Mahazer and al-Emar in Sa'ada province, the sources said.
According to the report, the strategic roads connecting Sa'ada to two other provinces of Sana'a and Amran has also been encircled by the fighters for the past two months.
The military said the troops enjoy the support of local tribes in the region and receive logistical support and food supplies from the air.
A top military commander has reportedly been commanded to deploy his forces to the region in an attempt to break the siege on the 107 brigade.
Based on the report, the brigade 29 has recently managed to retake most areas of Harf Sufian in Amran Province from the fighters.
Houthi fighters have been fighting a joint Yemeni-Saudi army in the northern provinces.
Saudi Arabia launched its offensive more than two months after the Yemeni government launched its "Operation Scotched Earth" to crush the Houthi resistance in the mountainous north.
The offensive has so far killed scores of civilians and left thousands displaced from their homes.