Saudi Arabia
Yemen
HRW: US-Supplied Cluster Munitions Used by zionist Saudi Regime in Yemen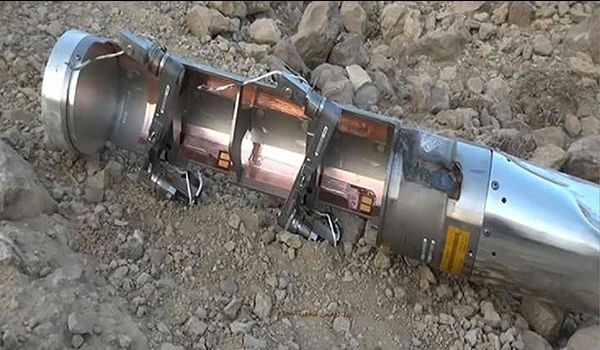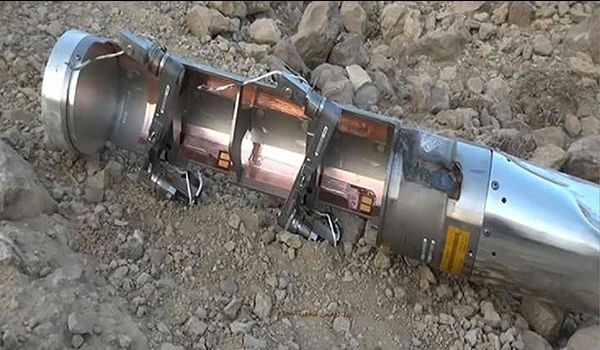 Credible evidence indicates that the Saudi-led coalition used banned cluster munitions supplied by the United States in airstrikes against Yemen, Human Rights Watch said Sunday.
Photographs, video, and other evidence have emerged since mid-April 2015 indicating that cluster munitions have been used during recent weeks in coalition airstrikes in Yemen's Northern Sa'ada governorate, Human Rights Watch reported.
Human Rights Watch has established through analysis of satellite imagery that the weapons appeared to land on a cultivated plateau, within 600 meters of several dozen buildings in four to six village clusters.
A BLU-108 canister with four submunitions still attached found in the al-Amar area of al-Safraa, Sa'ada governorate, in Northern Yemen on April 17, 2015.
"Saudi-led cluster munition airstrikes have been hitting areas near villages, putting local people in danger," said Steve Goose, arms director at Human Rights Watch.
"These weapons should never be used under any circumstances. Saudi Arabia and other coalition members – and the supplier, the US – are flouting the global standard that rejects cluster munitions because of their long-term threat to civilians," he added.
Cluster munitions contain dozens or hundreds of submunitions. The submunitions are designed to explode after spreading out over a wide area, often the size of a football field, putting anyone in the area at the time of the attack at risk of death or injury. In addition, many submunitions often do not explode, becoming de facto landmines.
A video, uploaded to YouTube on April 17 with no audio, shows numerous objects with parachutes slowly descending from the sky in Yemen. The video zooms out to show a mid-air detonation and several black smoke clouds from other detonations. Human Rights Watch established the location, using satellite imagery analysis, as al-Shaaf in Saqeen, in the Western part of Sa'ada governorate.
An activist based in the Yemeni capital, Sana'a, provided Human Rights Watch with photographs he received from a resident of Sa'ada governorate, who said he took them on April 17 at the site of an airstrike in the al-Amar area of al-Safraa, 30 kilometers South of the city of Sa'ada. From the photographs, Human Rights Watch identified the remnants of two CBU-105 Sensor Fuzed Weapons manufactured by the Textron Systems Corporation and supplied to Saudi Arabia and the United Arab Emirates by the US in recent years. One photograph shows an empty BLU-108 delivery canister, while the other shows a BLU-108 canister with four submunitions still attached to it. The location of the remnants in the photographs is 36 kilometers from where the video was filmed, indicating the possibility of multiple attacks.
Two local residents of al-Safraa told Human Rights Watch that about 5,000 people normally live in the village. They said they witnessed airstrikes in the area on April 27 in which bombs were delivered by parachute. Human Rights Watch was unable to determine whether they saw another attack using CBU-105 Sensor Fuzed Weapons or one using other types of bombs.
Human Rights Watch has not been able to obtain information on possible casualties from the attacks.
Since March 26, a Saudi-led coalition including Bahrain, Egypt, Jordan, Kuwait, Morocco, Qatar, Sudan, and the UAE has conducted numerous airstrikes against Yemen. So far, more than 3,163 civilians, mostly women and children, have been killed.
Soon after the airstrikes began, Saudi Arabia denied using cluster munitions in Yemen. At a news conference in Riyadh on March 29, Brigadier General al-Assiri told the media, "We are not using cluster bombs at all."
According to a data sheet issued by the Textron Systems Corporation, the CBU-105 disperses 10 BLU-108 canisters that each subsequently releases four submunitions that sense, classify, and engage a target such as an armored vehicle, and are equipped with self-destruct and self-deactivation features. The submunitions of the Sensor Fuzed Weapon explode above the ground and project an explosively formed jet of metal and fragmentation downward.
In August 2013, the US Department of Defense concluded a contract for the manufacture of 1,300 CBU-105 Sensor Fuzed Weapons for Saudi Arabia by Textron. The contract stipulated that delivery of the weapons should be completed by December 2015. Human Rights Watch does not know when deliveries began, or if they have finished.
Additionally, the UAE received an unknown number of CBU-105 from Textron Defense Systems in June 2010, fulfilling a contract announced in November 2007.
US policy on cluster munitions is detailed in a June 2008 memorandum issued by then-Secretary of Defense Robert Gates. Under the Gates policy, the US can only use or export cluster munitions that "after arming do not result in more than 1 percent unexploded ordnance across the range of intended operational environments," and the receiving country must agree that cluster munitions "will only be used against clearly defined military targets and will not be used where civilians are known to be present or in areas normally inhabited by civilians."
This policy is most recently codified in section 7054(b) of the Consolidated and Continuing Appropriations Act (HR 83) of 2015. According to guidance issued by the US Defense Security Cooperation Agency in May 2011, "the only cluster munition with a compliant submunition (compliant with the reliability standard established by the Gates policy) is the CBU-97B/CBU-105 Sensor Fuzed Weapon."
In March 2015, Human Rights Watch called on all parties to the conflict not to use cluster munitions in the Yemen fighting. Credible evidence showed that Saudi Arabia had dropped cluster bombs in Sa'ada governorate in November 2009 during Yemeni government fighting against the Houthis. Cluster munition remnants from the 2009 airstrikes, including unexploded US-made BLU-97 and BLU-61 submunitions, were reported by a number of sources.
In addition to the recent transfer of CBU-105, the US provided Saudi Arabia with significant exports of cluster bombs between 1970 and 1999. Saudi Arabia possesses attack aircraft of US and Western-NATO origin capable of dropping US-made cluster bombs.
"The Gates policy is providing the US a handy loophole to send cluster munitions to countries like Saudi Arabia, which shouldn't be using them at all," Goose concluded.