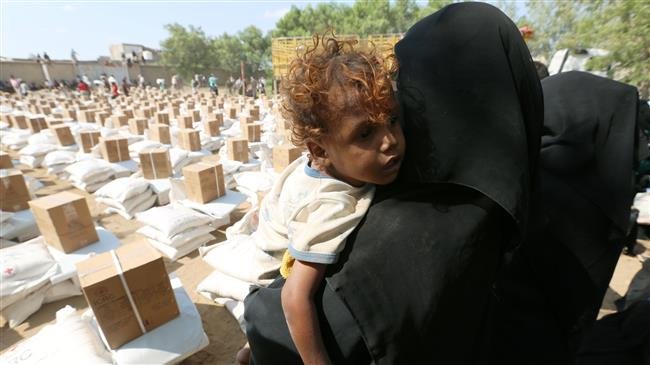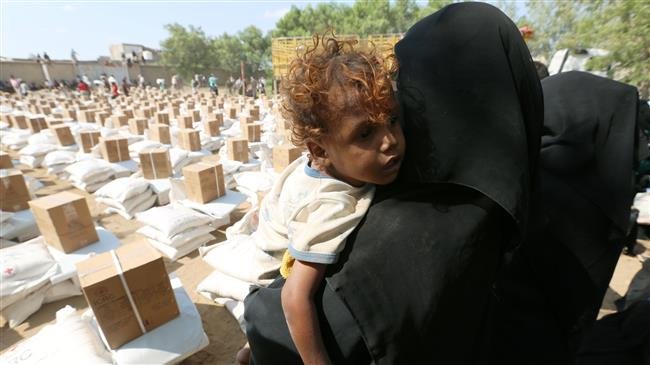 Residents of the besieged port city of Hudaydah have received their first aid packages since a truce deal was signed between opposing factions to halt hostilities in the city.
On Thursday, more than 3,200 packages were handed out by The Red Cross to a long line of men, women and children who had waited to receive the food and other necessities.
Commenting on the truce later on Friday, World Food Program spokesperson Hervé Verhoosel welcomed the deal.
"This agreement has the potential to allow the ports of Hudaydah and Saleef to operate at near-normal capacity," said Verhoosel.
"The free flow of commercial food supplies into Yemen should prevent further increases in food prices, which have sky-rocketed in the last few months."
The spokesperson, however, stressed that the deal was still "not enough" to address existing humanitarian concerns.
"That's why we look forward to January or later when the second round of discussions will take place under the Special Envoy's leadership and we hope that other similar agreements will be reached in other parts of the country."
Yemen's Houthi Ansarullah movement and the country's former Saudi-backed government agreed on Thursday to withdraw forces from the city in a bid to facilitate aid access to the civilian population which had been greatly hampered by the Saudi-led onslaught on the life-line port.
Upon returning to Yemen on Friday, Houthi chief negotiator Mohammed Abdulsalam described the agreement as a victory for the Yemeni nation.
The Houthi Ansarullah movement calls a truce agreement reached between Yemen's warring sides a victory for the Yemeni nation.
"The existing local authorities will be officially in charge of controlling the city and establishing security there under the supervision of the UN," said Abdulsalam.
The landmark agreement came after the two sides had agreed to conduct a large prisoner swap on Monday. Two days later, a resume of domestic flights to Sana'a international airport was also agreed upon.
Saudi-led mercenaries and forces loyal to Yemen's former president Abd Rabbuh Mansur Hadi were forced to sit for talks with the Ansarullah movement after their massive operation to seize the port city of Hudaydah failed.
Ansarullah calls the truce deal a defeat for the Saudis as it stops the aggression, allows existing local protectors who thwarted the Saudi offensive to be in charge of the city, and allows the Yemeni nation to regain access to food, medicine, and other basic supplies.
The Saudi-led war has, however, taken a heavy toll on the country's infrastructure, destroying hospitals, schools, and factories. The UN has said that a record 22.2 million Yemenis are in dire need of food, including 8.4 million threatened by severe hunger.
According to the world body, Yemen is suffering from the most severe famine in more than 100 years.