Egypt
Huge Car Bomb Attack on Egypt Police HQ Kills 13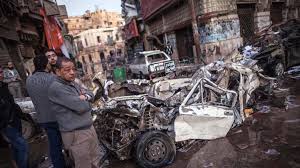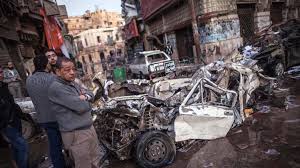 A suspected suicide car bombing outside an Egyptian police headquarters killed at least 13 people Tuesday.Mansouraa Blast
The explosion in a city north of Cairo, which military-installed authorities suggested was carried out by Musi's Muslim Brotherhood, comes as the country is bitterly polarized over his ouster, with over 1,000 people killed in months of unrest.
The Muslim Brotherhood, which publicly renounced violence decades ago, condemned the bombing, and analysts said it was likely the work of radical extremists, who have carried out a string of similar attacks in the Sinai targeting security forces.
The interior ministry said 12 of the dead were policemen, and medics said a civilian was killed in the blast outside the headquarters in the Nile Delta city of Mansoura.
Investigators suspect a suicide bomber rammed a car freighted with powerful explosives through barriers surrounding the building shortly after 1:00 am (2300 GMT Monday).
The explosion peeled off part of the building's facade and could be felt up to 20 kilometers (12 miles) away.
Casualties were rushed to a nearby hospital, where one witness told AFP the blast had sent him flying through the air.
"I heard a massive explosion behind me. I flew through glass and wreckage and then lost consciousness," he said from his stretcher, his head swathed in bandages.
The bombing was the deadliest since Mursi's overthrow outside of the Sinai Peninsula bordering Israel and Gaza, where militants have killed more than 100 police and soldiers.