Middle East
World News
Huge explosion hits container ship anchored off Dubai
A huge explosion has reportedly stricken a container ship anchored off Dubai, ringing out across the city and causing a fire on the vessel.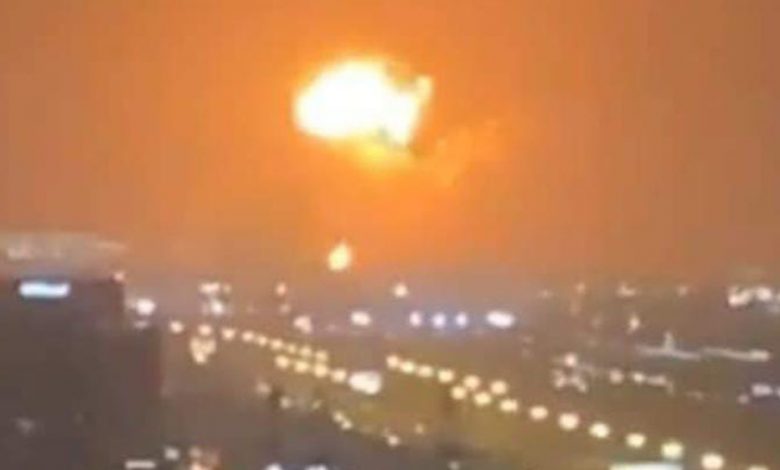 "A fire has been reported to have broken out in a container within a ship anchored in Jebel Ali Port," Dubai's Governor's Office said in a statement.
"A Dubai Civil Defense team is working to put out the blaze," it added.
Available footage showed a fireball rising high in the sky.
There were no immediate reports of potential casualties or likely damage to the port and surrounding vessels.
The Associated Press cited witnesses as saying the blast had shaken buildings across the city.
"Residents of neighborhoods as far away as 25 kilometers (15 miles) felt the blast around 11:45 p.m. Associated Press journalists felt the blast rock the glass windows of their apartments," the agency said.
"I was outside on my balcony. My friend saw something yellow coming (like) the sun. I took the picture and after (there was) a sound," said intern Clemence Lefaix, who is staying near the blast site and posted a photo of a bright orange light against the night sky in front of apartment buildings, AFP reported.
A resident of Dubai's Madina district, close to the Jebel Ali port, told the agency, "I have been living here for 15 years and this is the first time I've seen and heard this."
Emirati authorities, however, later said the fire had come under control.
The government's Dubai Media Office has also claimed in a statement that there had been no casualties. It also posted footage of water being pumped to douse the flames and debris.
Saudi-owned al-Arabiya TV cited the Dubai government as claiming that the ship's crew had been evacuated in time.
The cause of the incident was being investigated, DMO Director-General Mona Al Marri also told the channel.
The explosion was a "normal accident" in a container holding flammable material, Al Marri said.
Dubai Police said the fire might have been caused by "friction or high temperature," and added that no radioactive materials were on board.