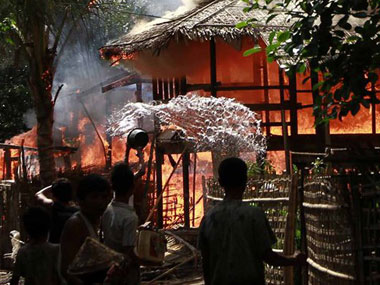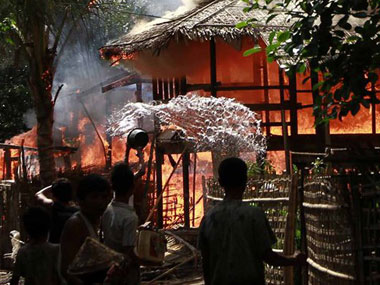 Human Rights Watch (HRW) has called on the Myanmar government to take immediate measures to stop communal violence against ethnic Rohingya Muslims, and ensure protection and aid to the community.
"Myanmar government urgently needs to provide security for the Rohingya in Arakan State, who are under vicious attack," HRW deputy Asia director, Phil Robertson, said on Saturday.
He added, "Unless the authorities also start addressing the root causes of the violence, it is only likely to get worse."
Human Rights Watch also expressed regret over extensive destruction of homes and other property in a predominantly Rohingya Muslim area in Myanmar's coastal town of Kyauk Pyu.
The New York-based international organization stated that the area of destruction measures 35 acres, and includes 633 buildings, 178 houseboats as well as floating barges.
Sectarian violence re-emerged between Arakan Buddhists and Rohingya Muslims on October 21 and continued all week in at least five townships of Minbya, Mrak-U, Myebon, Rathedaung and Kyauk Pyu.
Rakhine state spokesman Win Myaing said on Friday that 112 people had been killed in the latest clashes between members of the Buddhist Rakhine and the Muslim Rohingya communities. He said 72 people were reported injured, including 10 children.
The Myanmar government says more than 2,800 houses were burned down in the new violence.
Communal violence and related abuses by state security forces against Rohingya Muslims began in early June.
Also in June, Human Rights Watch documented killings, rape, and mass arrests by Myanmar security forces against Rohingyas after the security forces failed to protect both them and Arakan Buddhists during deadly sectarian violence.
The government of Myanmar refuses to recognize Rohingyas, who it claims are not natives and classifies them as illegal migrants. This comes as the Rohingya are said to be Muslim descendants of Persian, Turkish, Bengali, and Pathan origin, who migrated to Myanmar as early as the 8th century.