Turkey
Hundred of Thousands People chanted for resignation of Turkish Govern. across Turkey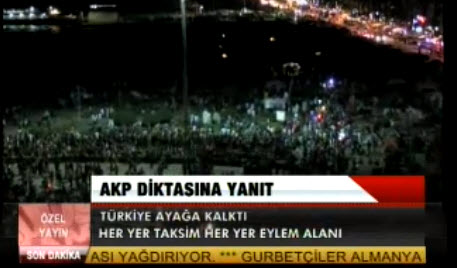 The protests began as a local protest against a plan to redevelop Gezi Park, but snowballed into nationwide anti-government protests after the perceived high-handed response of the authorities.
Earlier in the week the police cleared Taksim Square, in which the park is located, but the government had since appeared to be more conciliatory.
Continue reading the main story
Protest timeline
31 May: Protests begin in Gezi Park over plans to redevelop one of Istanbul's few green spaces
3 June: Protesters establish camps with makeshift facilities from libraries to food centres
4-10 June: Protests widen into show of anti-government dissent in towns and cities across Turkey; clashes between police and demonstrators
11/12 June: Night of clashes see riot police disperse anti-government demonstrators in Taksim Square, which adjoins Gezi Park; camps in the park remain
13 June: Prime Minister Recep Tayyip Erdogan issues a "final warning" to protesters to leave Gezi Park
14 June: Government agrees to suspend Gezi Park redevelopment plans until a court rules on the issue, PM holds talks with members of a key protest group
15 June: Police move in, clearing protesters from Gezi Park
Q&A: Protests in Turkey
Why is Gezi Park so important?
Turkey sails further into dangerous waters
Mr Erdogan, a hate figure for the protesters, had agreed to postpone the redevelopment while the courts considered the project's legality.
However, in a speech to supporters of his Justice and Development (AK) Party in Ankara on Saturday he said the park had to be "evacuated" by the security forces.
And late on Saturday riot squads moved in, taking just 30 minutes to dislodge the protesters.
The BBC's James Reynolds, who was at the park, says the officers advanced slowly, wearing gas masks and carrying riot shields, amid a cloud of white tear gas.
Most protesters chose to leave to avoid getting hurt. Some regrouped in nearby streets, but police fired more tear gas in an effort to disperse them.
Clashes then erupted around the city, with protesters ripping up paving stones and tearing down fences to use as barricades. In some areas they chanted: "Tayyip resign."
Police chased protesters to hotels where they had taken refuge, and some activists claimed medical facilities were targeted with water cannon and tear gas.
Taner Akcesme, who lives 10 minutes from Gezi park, told the BBC he had been woken at 06:00 (03:00 GMT) on Sunday by the noise of police chasing protesters. People had to shut their windows, he said, because of the tear gas filling the street.
In Ankara, thousands of protesters gathered for a rally near the US embassy.