Asia-Pacific
Hundreds gather in southwestern Japan to protest against Osprey deployment plan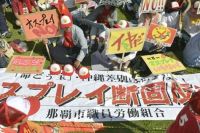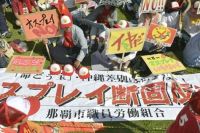 Hundreds of residents gathered in front of the city hall of Saga, a Southwestern Japanese city on Saturday to protest against the Japanese Defense Ministry's plan to deploy MV-22 Osprey aircraft to Saga Airport.
Protesters shouted slogans loudly, such as "We don't need Ospreys," "Osprey danger, no Osprey," Xinhua reported.
In July, the Defense Ministry sought support from the Saga prefectural government for its plan to deploy 17 Ospreys at Saga airport from fiscal 2019, as those aircraft are scheduled to be attached to the Ground Self-Defense Forces.
The ministry also plans to transfer some of its Osprey training exercises at US Marine Corps Air Station Futenma in Okinawa Prefecture to Saga airport.
Saga Gov. Yasushi Furukawa effectively accepted the ministry's plan on Monday to request money in the budget for the new fiscal year from next April to acquire land around the civilian airport, said Japan's Kyodo News Agency.
But local people oppose to the deployment plan strongly, following a series of high-profile accidents involving the aircraft, which takes off and lands like a helicopter but cruises like a plane, which have led to a number of fatalities.