Syria
Hundreds of Terrorists Including Non-Syrians Killed in Gov't Forces Operations in Hama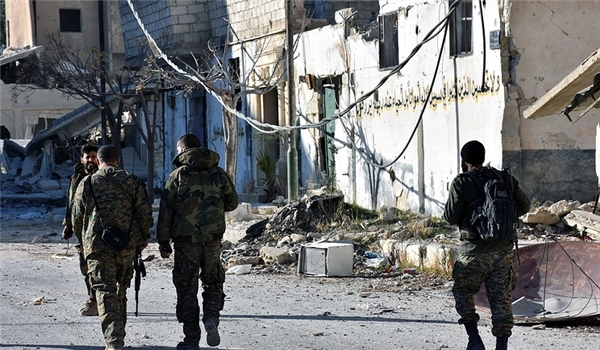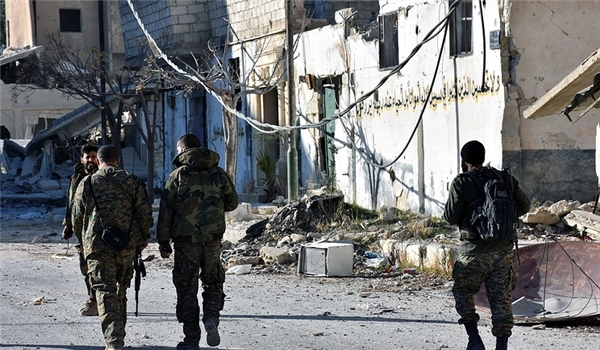 Hundreds of terrorists of Al-Nusra Front (also known as Fatah al-Sham Front or the Levant Liberation Board), including Saudi and Turkish commanders, have been killed or wounded in the Syrian Army troops' operations in Northern Hama, an informed military source said.
The source reported that the army's advances in Northern Hama and liberation of the town of Taybat al-Imam and its surrounding regions have inflicted hundreds of casualties on Al-Nusra, adding a Saudi commander nom de guerre Abu Qadamah and a number of Saudi and Turkish fighters are among the killed Al-Nusra terrorists.
The source went on to say that two ammunition depots, a BMP vehicles, over 70 vehicles some of them machinegun-equipped, were destroyed in the army operation.
In the meantime, several terrorists were captured and a large volume of arms and munitions, including a tank, 14 cannons and four rocket launchers were seized by the army men.
In relevant developments in the province on Friday, the army troops continued their advances against terrorists in Northern Hama and managed to push the militants back from a strategic region after hours of non-stop clashes.
The army units that had earlier won back the town of Taybat al-Imam stormed terrorists' defense lines and captured al-Mashiteh region.
In the meantime, the army's missile units shelled terrorists' strongholds in al-Baqousiyeh West of the town of al-Salamiyah, killing a large number of militants.
Military sources reported meantime that the army soldiers repelled terrorists' attack, inflicting heavy casualties on them.
The sources rejected the claims raised in the terrorist groups' websites about their advances in Northern Hama, underlining the army's full control over Taybat al-Imam.
They said that the artillery units and army aircraft targeted terrorists' positions West of al-Salamiyah on Thursday night.