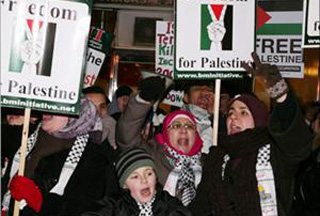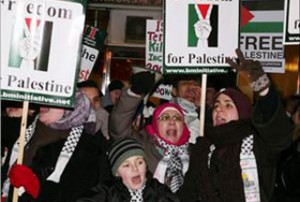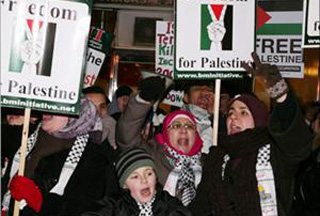 Hundreds of Arabs, Muslims and British nationals have staged a rally in the center of London in condemnation of the visit by the mayor of Jerusalem (al-Quds) Nir Barkat to the British capital.
The protestors, numbering around 300, on Monday evening criticized the British government for Barkat's visit and urged authorities to arrest and prosecute him for violations against the indigenous Palestinian people living in the city of al-Quds, according to a report published by the International Middle East Media Center.
The rally was organized by Palestine Solidarity Campaign, Stop the War Coalition, British Muslim Initiative, Jews for Justice for Palestinians, Friends of Lebanon, Friends of Sabeel UK, Architects and Planners for Justice in Palestine, and Palestinian Forum in the UK.
Spokesperson of the Palestinian Forum in the UK, Ahmad al-Turk, said that protestors were angered by the British government's inviting of Barkat as a guest instead of prosecuting him for demolishing dozens of Palestinian and Arab homes in the Old City of al-Quds.
Israel's interior ministry last week gave a green light to the construction of 1,600 new housing units in Ramat Shlomo neighborhood in the mainly Arab eastern sector of al-Quds.
The announcement came during US Vice President Joe Biden's trip to Israel to revive the so-called peace process. It caused prospects for indirect Israeli-Palestinian talks to collapse and also sparked swift condemnation from Britain, China, Iran, Russia, Turkey, the United States and a number of other countries.
Settlement activity has been internationally described as the main obstacle in the way of the peace process between Israel and Palestinians. East al-Quds is claimed by Palestinians as the capital of their future state.